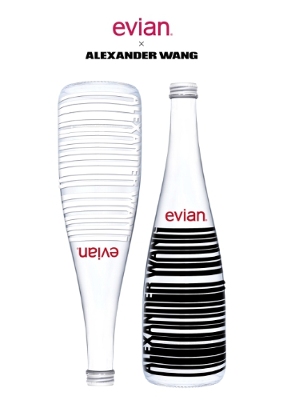 Evian and New York-based fashion designer Alexander Wang unveil the 2016 evian Limited Edition bottle. Wang's design features his signature bar code logo on two contrasting bottles, one black and one white. The purity of evian water is emphasized through clean graphics and highlighted by the play of the lines on the bottles.
Alexander Wang applies the barcode logo in different ways and throughout different collections and seasons. Inspired by the unique purity of evian water, Wang put it into new context on its iconic glass bottle. The design is clean, simple and, at the same time, interacts with the dynamic reflections of water as a natural element.
"In my approach to design, I have always had an un-precious outlook, focusing on the pieces that people wear every day, then tweaking them and elevating them to give a distinct point of view," said Wang.  "evian water is something that is truly 'every day' yet precious by design. We used linear and strong graphics to give the brand's iconic bottle our sensibility, and to create a new take on it."
Since 2008, evian has worked with some of the world's most prestigious designers to create a limited edition bottle. Through the creative vision of artists such as Diane von Furstenberg, Paul Smith, Jean-Paul Gaultier, Elie Saab and KENZO, each collaboration is a renewed celebration of purity and playfulness and a reinterpretation of evian's spirit through art and design.
"The architectural and minimalistic approach Alexander Wang brings to his creations really caught our attention," said Olga Osminkina-Jones, Vice President of Marketing for Danone Waters of America. "His creations are iconic yet extremely inclusive and relevant today, pure interpretation of the modern audience values. The black and white color contrast, that Alexander Wang chose, makes a statement about evian purity in a very contemporary way."
The 2016 evian x Alexander Wang Limited Edition bottle will be available in 75cl glass bottles at evian.com and retailers worldwide beginning November 2015.