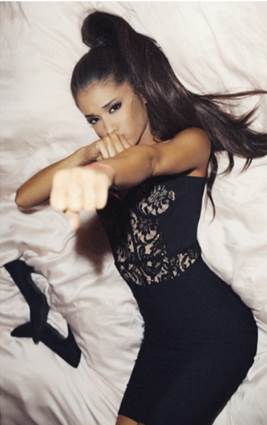 Platinum-selling, two-time Grammy-nominated powerhouse vocalist and actor Ariana Grande announces her new partnership with prestige beauty company LUXE Brands. Together, LUXE's founder Tony Bajaj and Grande are planning for a blockbuster global launch of her first-ever fragrance throughout North America and Europe in September of 2015.
One of the fastest rising musical stars on record, Ariana Grande is seeking to parlay her meteoric success to the beauty industry. She is currently crafting a fragrance that will speak directly to her loyal following- a dedicated fan base that includes over 24.9 million Facebook fans and 25 million Twitter followers. Her signature soulful sound has earned her recognition in the industry and amongst her peers, including the certified double platinum album Yours Truly, as well as the Music Business Association  2014 Breakthrough Artist of the Year Award. Endowed with an unmistakable presence and signature fashion style, Ariana is now poised to put her personal touch on the beauty industry.
"I have always been obsessed with perfume. I always carried like six different scents in my bag, another three  in my suitcase and another couple in my car. I'm asked so often about which fragrance I'm wearing, or if I have a signature scent. I do have favorites, but I really want to create something that encompasses everything I love…which is why I am so excited to create my personal fragrance I can call my own," said Grande. "My fans have been asking me to do a fragrance for a while so I am beyond excited to share this with them, to be able to express my creativity in this new way, and also incredibly grateful to have partnered with LUXE Brands."
Tony Bajaj, CEO of LUXE Brands, Inc., will lead the global brand development and execution in North America, Latin America, and the Caribbean regions. LUXE'S management team consists of well-known industry veterans such as Debbie Murtha and Nancy Winograd, who will head up North America sales, and Noreen Dodge, leading global marketing and brand development.  Dilesh Mehta of Designer Parfums will be responsible for the launches in Europe, Australia, Asia, the Middle East and Far East territories.
"Ariana Grande is an incredibly special talent, and a perfect partner for LUXE brands' debut celebrity fragrance," said Tony Bajaj. "With this launch, LUXE Brands adds to its growing and strategically diverse portfolio of global brands. We're excited to bring Ariana into the LUXE family, and look forward to delivering a truly beautiful scent to her fans around the world."
"We are delighted to be collaborating with LUXE Brands and with Ariana Grande to bring her first fragrance to her millions of fans in Europe, Australasia, Middle East and Far East," said Dilesh Mehta of Designer Parfums. "Ariana is a unique talent and that her wonderful music and style will ensure that the launch in those countries will be truly sensational. The Designer Parfums, Ltd teams are currently exploring the opportunities and preparing for the introduction, with real anticipation, enthusiasm and dedication."