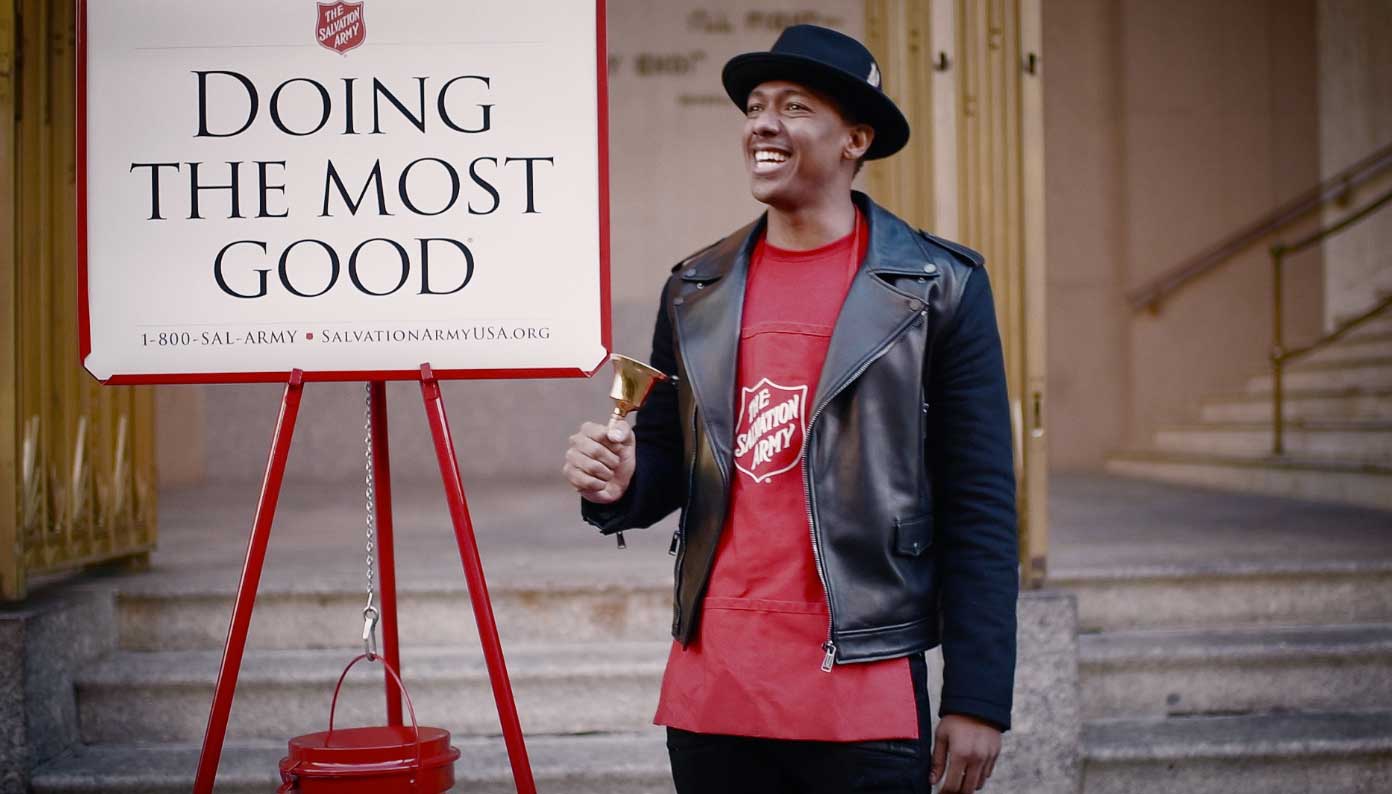 After a successful launch in 2014, The Salvation Army will continue to encourage Americans to share their reasons for giving this holiday season with the hashtag, #RedKettleReason. New this year, The Salvation Army will award one lucky winner of The Salvation Army Giving Spree Contest with a paid trip to New York City to participate in a "Giving Spree," to buy toys and necessities to benefit a Salvation Army program in their community. The Salvation Army Giving Spree shopping event will be featured on TODAY.
Actor, producer, musician and Salvation Army supporter, Nick Cannon, will join the winner during the Giving Spree shopping event.
"When approached with the opportunity to work with The Salvation Army, there was no doubt in my mind that I had to do it. This organization was there for me and my family when I was younger, and now it's my turn to give back," Nick Cannon said. "I can't wait to hear all of the personal stories and connections to The Salvation Army and be able to experience the Giving Spree alongside the winner."
To enter, upload a video to Twitter sharing your reason for supporting The Salvation Army using the hashtags #RedKettleReason and #GivingSpreeSweeps. On Giving Tuesday, December 1, six finalists will be announced and the national voting period will begin at RedKettleReason.org. The winner will be revealed the week of December 7 and flown to New York City to shop for toys and necessities for The Salvation Army.
Throughout the season, those who share their #RedKettleReason and those who enter The Salvation Army Giving Spree Contest can view their posts and others onRedKettleReason.org to learn why the rest of America is giving. The site will also feature an interactive mosaic and map of the conversations happening on social media, along with an easy way to donate to the Army.
"We hear stories all the time about people remembering the first time they donated to the kettles as a child. Many times, it was their first exposure to giving and understanding what that word truly means," said Lt. Colonel Ron Busroe, national community relations and development secretary. "The Salvation Army wants to encourage parents and families to share these moments online through #RedKettleReason. People donate for all different reasons and these are the types of conversations we hope to ignite this year through #RedKettleReason and the Giving Spree."
During the holiday season, nearly 4.2 million people rely on The Salvation Army to provide their families with a warm meal on Christmas Day or toys for their children. Donating to the Red Kettles also allows the Army to serve nearly 30 million people a year by providing over 10 million nights of shelter and roughly 57 million meals a year, along with substance abuse recovery programs, after-school programs, and emergency shelter for children and families in need.
To donate to the 125th Red Kettle campaign, Americans can drop dollars and coins in the Red Kettles found in front of retail stores and on street corners, give $10 by texting KETTLE to 80888, or visit RedKettleReason.org.
For information on contest rules and regulations, visit: RedKettleReason.org.