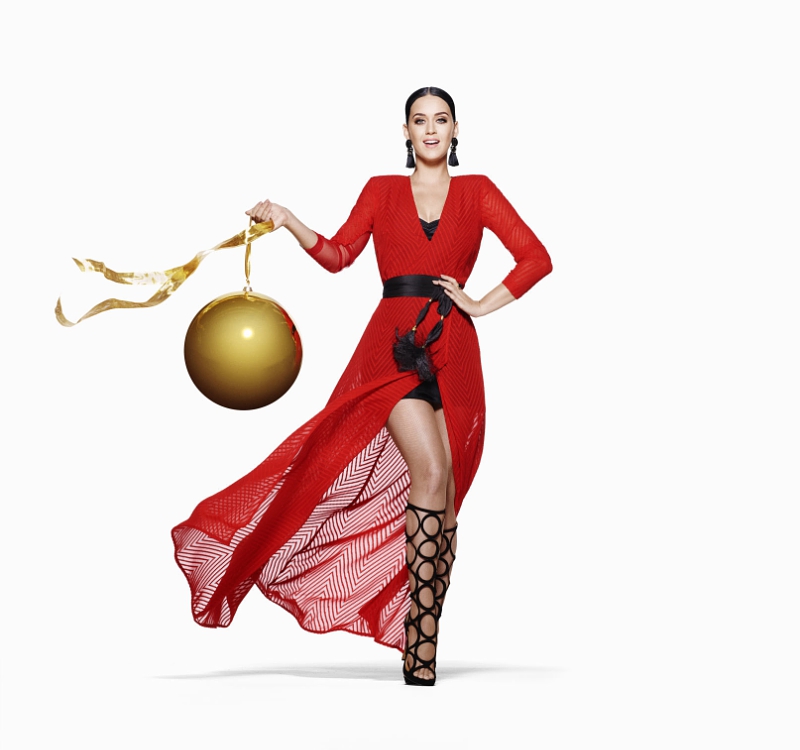 H&M's Holiday 2015 commercial is starring Katy Perry as a fairy before conjuring to life a cast of characters, from life-sized gingerbread men, to oversized presents on roller skates, and giant teddy bears.
Katy gives every scene in the action packed and versatile spot her own twist. The soundtrack to the commercial is "Every Day Is A Holiday," a new song written by Katy for the H&M Holiday commercial, produced by Duke Dumont.
"I had such a festive time shooting this larger-than-life holiday commercial with Jonas Akerlund, and all of the fun clothes, especially my favorite, the Elfie Selfie sweater. H&M has been a part of the evolution of my personal style since I was 13, when I would start to incorporate fun, affordable H&M pieces into my vintage wardrobe. I can't wait for you to give your wardrobe some sparkle with this magical holiday collection," says Katy Perry.
In both the commercial and accompanying print campaign, Katy appears in festive looks from the H&M Holiday collection which mixes glamour, style, and fun. Included are pieces such as a lipstick-red dress, tuxedos with elegant flyaway sleeves, and a T-shirt embroidered with sequined red bows. Intricate details are everywhere, from fringe on a black mini skirt to embellishments on a cozy Holiday sweater. H&M's Holiday collection will be available in H&M stores and online beginning mid-November.
"I love the mix of style and updated traditions in this year's Holiday collection. These are pieces for pure pleasure, whether it's the perfect party dress for the best night out, or a cozy and fun sweater for relaxing with friends and family," says Pernilla Wohlfahrt, H&M's Head of Design.
This holiday season, H&M is committed to supporting the children in Myanmar with specially designed gift cards. For each card bought, the H&M Conscious Foundation will donate 5% of the price to UNICEF. UNICEF will then use the money to provide quality education for vulnerable children in Myanmar, where there is urgent need to improve access to basic education.
Through the gift card campaign, UNICEF and the H&M Conscious Foundation aim to directly reach more than 350,000 children with quality primary and lower secondary school education in the Rakhine State.
The gift cards will be available in H&M stores globally through December 31st.