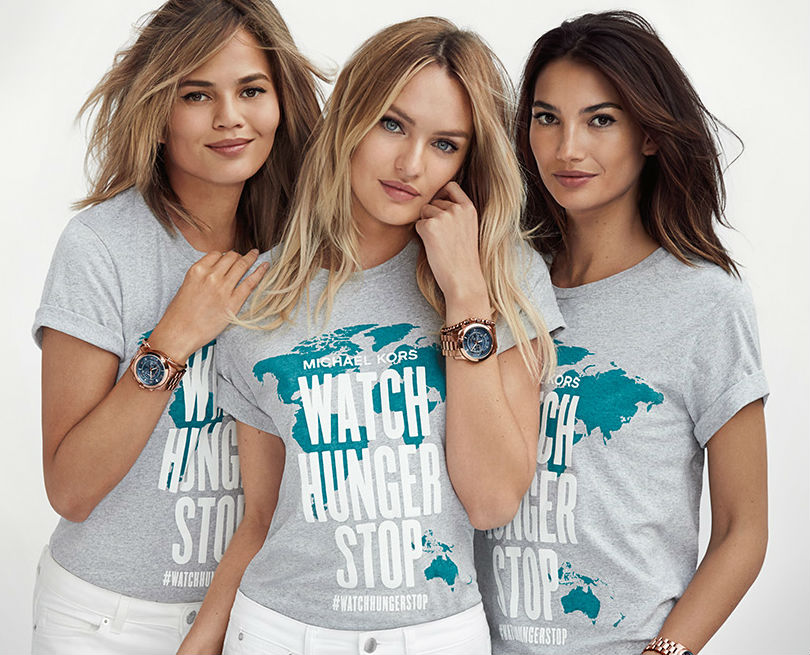 Michael Kors partnered with the United Nations World Food Programme (WFP) in early 2013 to launch Watch Hunger Stop, an initiative to help fight global hunger.
Join Kors and WFP on October 16th as they mark World Food Day for the second year in a row, and work towards achieving a world with zero hunger. Founded by the Food and Agriculture Organization of the United Nations in 1979, World Food Day is observed every year in more than 150 countries to help raise awareness of the issues surrounding poverty and hunger.
Together with WFP, Michael Kors has delivered over five million meals to hungry children in need. Here's how you can help. "Hunger is a solvable problem and we're making strides, but there's still a lot of work to be done," says Kors. "I can't think of a better time than World Food Day to let people know what they can do to help."
1. FREE TEES & DONATED MEALS Big news! Kors just announced that he'll personally donate 100 meals to children in need for each person who posts a picture in their Watch Hunger Stop tee on social media using the hashtag #WatchHungerStop. Pick up your tee (today!) and join supermodels Lily Aldridge, Candice Swanepoel and Chrissy Teigen, who have generously joined us to promote the cause.
Here's how you do it: World Food Day FIND A PARTICIPATING STORE ▸ *While supplies last through Oct. 31, 2014. 1 share = US $25 = 100 meals.
2. BUY A 100 SERIES WATCH Debuting in rose gold-tone with a gray-blue dial, the new limited-edition 100 Series watch debuts right in time for World Food Day. For every 100 Series timepiece sold, 100 children will receive a nutritious meal from the United Nations World Food Programme (WFP).* *For every sale of the 100 Series watch, Michael Kors will donate US $25 to WFP. Please note that WFP does not endorse any product or service. EXPLORE THE 100 SERIES COLLECTION
3. DONATE TO WFP Visit select Michael Kors stores (in the US, Europe, Japan and Canada) during the month of October to make a donation at the register. If you live outside those regions, or cannot make it into a participating store, you can donate online here. Just $5 feeds a child for a month. https://give.wfp.org/646/?step=country
4. ENTER FOR A CHANCE TO WIN A VISIT TO THE FIELD Michael Kors is offering one winner and a friend the chance to accompany WFP on a field visit, where they'll be able to experience WFP's school meals program in action. To learn more about this rare opportunity, and for official rules, see the entry page.