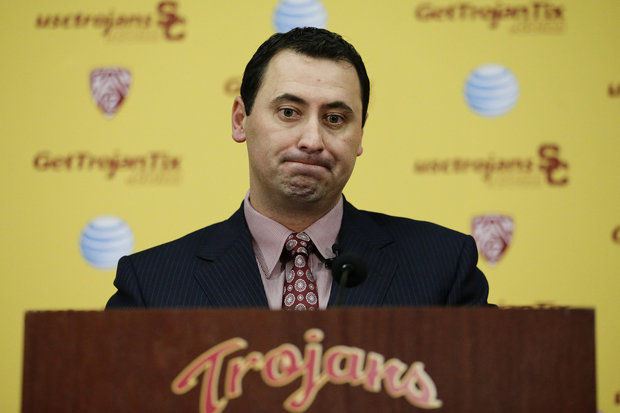 USC has fired coach Steve Sarkisian, the school announced Monday. "After careful consideration of what is in the best interest of the university and our student-athletes, I have made the decision to terminate Steve Sarkisian, effective immediately," USC athletic director Pat Haden said in a statement.
"I want to thank Clay Helton for stepping into the interim head coach role, and I want to add how proud I am of our coaching staff and players and the way they are responding to this difficult situation. Through all of this, we remain concerned for Steve and hope that it will give him the opportunity to focus on his personal well-being."
On Sunday, Sarkisian was asked to take an indefinite leave of absence. Haden said Sunday it was "clear to me that he was not healthy." A player told ESPN via text that Sarkisian "showed up lit to meetings again today." Another source said he showed up Sunday morning and "appeared not normal," then was told to leave. "They wouldn't let him come to practice," the source said. Sarkisian is going through a divorce. His behavior while apparently under the influence of alcohol and painkillers at the Salute to Troy function in August drew national headlines, and he later apologized. He also added then that he would be getting unspecified treatment but didn't believe he had a drinking problem, blaming his unsteady appearance on combining alcohol and medication. USC athletic director Pat Haden spoke Tuesday about the decision to fire head coach Steve Sarkisian, calling it "very difficult," while also defending his handling of the situation.
"The decision I made didn't work out, and I own that," he said. "I own it." Haden said that he learned Sunday that Sarkisian was not at practice and, after looking into the matter, "determined that [Sarkisian] was not healthy." He announced that Sarkisian would be placed on an indefinite leave of absence. He said he looked into the situation further over the next 24 hours and, after determining that Sarkisian "did not meet USC's standards," decided to fire him. Haden declined to go into specifics about Sarkisian's contract, but said that Sarkisian knew the expectations "and failed to meet them." A school source told ESPN's Shelley Smith that Haden had instituted what was, in effect, a zero-tolerance policy concerning alcohol use with Sarkisian. When Sarkisian showed up to meetings Sunday seemingly intoxicated, that was a violation of their agreement and resulted in Sarkisian's dismissal.
An employee can't be fired for being sick or having an illness, the source said, but the guidelines Haden set up for Sarkisian made it clear that a similar incident could not happen again, thus making Sarkisian's behavior a fireable offense.