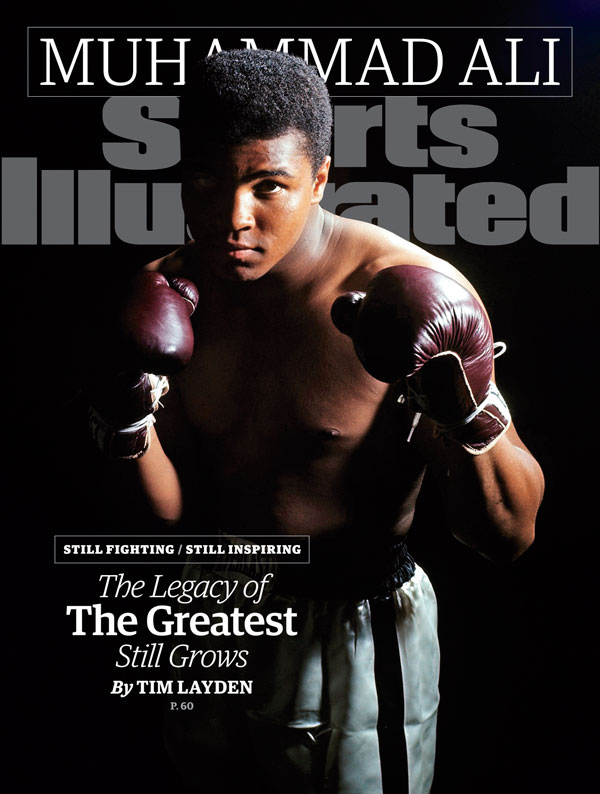 Sports Illustrated dedicated its Sportsman of the Year Award to Muhammad Ali, renaming it the Sports Illustrated Muhammad Ali Legacy Award.
The dedication ceremony took place on October 1 at the Muhammad Ali Center in front of a crowd of 300 VIPS including Mr. Ali, his wife Lonnie and family, former world heavyweight boxing champions George Foreman and Larry Holmes, Louisville Mayor Greg Fischer, and NBA all-time great Shaquille O'Neal.George Foreman, famed SI writer Bill Nack, and Lonnie Ali were among the featured speakers.
Lonnie Ali said, "I am very thankful to [Sports Illustrated] for having the wherewithal to realize that this was a legacy and to name this award after him… I'm really anxious to see and to applaud those who come after him that receive this award."
"This is a great honor not only for Muhammad Ali but it's a great honor for the sport of boxing…. Sports Illustrated is recognizing a guy that not only loved boxing but he loved Sports Illustrated. If you would see Muhammad with anything in his pocket, his money was always gone but he had a Sports Illustrated… It's good for the sport and this honor is great for us…. This is the greatest man I've ever met in my life, I get excited in my heart every time I met him…Congratulations, Sports Illustrated, congratulations, Muhammad Ali, God bless you," said George Foreman.
In 2008, Sports Illustrated instituted the Legacy Award and only two individuals have been selected by the SI editorial team to receive the honor. Eunice Kennedy Shriver, founder and driving force behind the Special Olympics, was the inaugural honoree, with her son Bobby accepting the award in her honor during the annual Sportsman of the Year ceremony. In 2014, Earvin (Magic) Johnson was honored for his two decades as an entrepreneur, philanthropist and social and political activist. He also accepted the honor at the annual Sportsman event, where he was commended by President Bill Clinton and NBA commissioner Adam Silver.
Ali appeared on this week's cover of Sports Illustrated, marking the 39th time he was featured on the cover:http://on.si.com/1FFyhMT