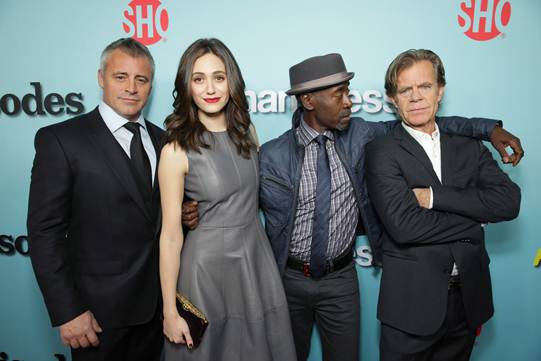 SHOWTIME will be available to over 70 million households during a Free Preview Weekend through Sunday, January 11th. Viewers nationwide will be able to sample the network's award-winning programming on SHOWTIME, SHOWTIME On Demand®, SHOWTIME ANYTIME® and select distributors' TV Everywhere portals.  
The Free Preview weekend will include sampling of the season premieres of the hit comedy series SHAMELESS, HOUSE OF LIES and EPISODES, hard-hitting sports programming, as well as feature films, including the television premieres of Philomena and Last Vegas.
Free Preview Weekend viewers will have access to current and past episodes of critically-acclaimed SHOWTIME original series including HOMELAND, THE AFFAIR, PENNY DREADFUL, RAY DONOVAN, MASTERS OF SEX and NURSE JACKIE, all available on SHOWTIME On Demand and SHOWTIME ANYTIME.  The network will also air the network premieres of Philomena and Last Vegas, as well over 60 feature films available on SHOWTIME On Demand and SHOWTIME ANYTIME including Silver Linings Playbook, Django Unchained, Lee Daniels' The Butler, Scary Movie 5, The Twilight Saga: Breaking Dawn Part 2, August: Osage County and Mandela: Long Walk To Freedom. Documentary programming will include The Lost Songs: The Basement Tapes Continued, surrounding the long-lost lyrics penned by legendary songwriter Bob Dylan in the summer of 1967 and Lance Armstrong: Stop at Nothing, an intimate but explosive story about the man behind one of the greatest frauds in sporting history, among many others.
On Sunday, January 11, SHOWTIME will debut the television premiere of Last Vegas starring Academy Award winners Michael Douglas, Robert De Niro, Morgan Freeman and Kevin Kline as a group of friends who head to Las Vegas together to celebrate the last remaining bachelor of the group before he gets married. Then, starting at 9 p.m. ET/PT, viewers nationwide will sample the highly-anticipated season premieres of the network's three hit comedy series SHAMELESS (9 p.m. ET/PT), HOUSE OF LIES (10 p.m. ET/PT) and EPISODES (10:30 p.m. ET/PT).
The fifth season of the network's No. 1 comedy series, SHAMELESS, premieres on Sunday, January 11 at 9 p.m. ET/PT. The series stars Oscar, Emmy and Golden Globe nominee William H. Macy and Golden Globe nominee Emmy Rossum, along with Jeremy Allen White, Ethan Cutkosky, Shanola Hampton, Steve Howey, Emma Kenney, Cameron Monaghan, Noel Fisher, Emily Bergl and special guest star Joan Cusack. This season, the Gallaghers are dealing with both the upside and downside of personal and urban renewal.  As their neighborhood begins a move towards gentrifying, the Gallagher clan begins to reconcile their chaotic past in the hopes of building a better future. Dermot Mulroney, Steve Kazee, Sasha Alexander and Justin Chatwin are also special guest stars this season. SHAMELESS has garnered three Emmy Award nominations, and a Golden Globe nomination and Screen Actors Guild Award nomination for Macy in the comedy categories. Based on the long-running hit UK series, SHAMELESS is executive produced by Emmy Award-winning television and film producer John Wells, Andrew Stearn, Christopher Chulack, Nancy M. Pimental and Davey Holmes. Wells developed the series for American television based on the original series created by Paul Abbott. Abbott serves as executive consultant. SHAMELESS is produced by Bonanza Productions, Inc. in association with John Wells Productions and Warner Bros. Television.
Premiering at 10 p.m. ET/PT, HOUSE OF LIES is the edgy, provocative hit comedy series starring Oscar nominee Don Cheadle in his three-time Emmy-nominated and Golden Globe-winning role as elite consultant Marty Kaan, a man with a single-minded pursuit: power.  We last left a despondent Marty alone in the desert after a cataclysmic double-cross by Jeannie (Kristen Bell) and a visit by the Feds. This season, Marty's brief stint in white collar prison left Jeannie to pick up the pieces of the now tainted Kaan & Associates with Clyde (Ben Schwartz) and Doug (Josh Lawson). Client flight has decimated the bottom line, but Marty has a singular focus: winning, at any and all cost. The series also stars Donis Leonard, Jr. and Emmy winner Glynn Turman. Guest stars this season include Larenz Tate, Demetri Martin, Mary McCormack and Valorie Curry. From the hit tell-all book House of Lies: How Management Consultants Steal Your Watch and Tell You the Time by Martin Kihn, HOUSE OF LIES is created and executive produced by Matthew Carnahan and produced by Showtime. Jessika Borsiczky, Don Cheadle and David Walpert serve as executive producers.