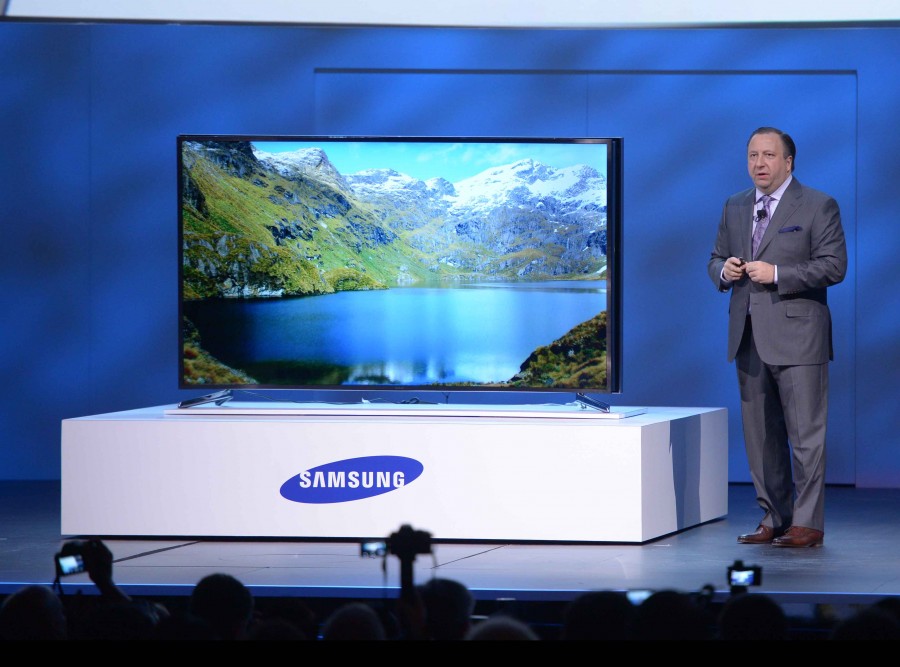 Samsung holds their press conference at the 2014 International CES
Drones, 3D printing, revolutionary headphones, high-tech audio, pixel perfected flat screen TVs… The latest in all things technology and gadget-wise can be found at the biggest tech event, 2015 International CES®, which has now opened its doors until Jan. 9th. It's set to be a record-breaking show with more than 3,600 exhibitors across the largest show floor. Follow top highlights on the latest gadgets in our Electronics section.
Gary Shapiro, president and CEO, CEA said, "The International CES is the epicenter for the ever-expanding global consumer technology community, showcasing the promise and power of technology and serving as a platform for all innovators, big and small."
Owned and produced by the Consumer Electronics Association (CEA)®, the 2015 International CES runs through Friday, January 9th.
Samsung President and CEO of Consumer Electronics Boo-Keun Yoon explored the implications of a fully connected world powered by the Internet of Things (IoT) during his visionary preshow keynote Sunday evening, which he called "science fact," not science fiction. He highlighted several scenarios of life made easier, healthier and more efficient because of IoT connectivity, including TVs that automatically pause when you leave the room, wearables that monitor brain waves to track biometric data and music systems that seamlessly transition from your home speakers to your headphones. "The Internet of Things is about people, not things," he emphasized. By 2017, Yoon said, 90 percent of all Samsung devices will be IoT-enabled; by 2020, all Samsung devices will be connected to the IoT.
 
Later Sunday evening, Dr. Dieter Zetsche, chairman of the Board, Daimler AG and head of Mercedes-Benz Cars, took the keynote stage and discussed the car of the future, saying that, "Mercedes aims to develop truly superhuman autonomous driving ability" before he unveiled the company's new concept car F 015. The concept car of the future, according to Zetsche, can drive itself, has seats that can swivel to face each other, and possesses a computerized brain to watch pedestrian traffic. The aim of the concept car is space, time and privacy with the interior featuring gesture and eye tracking control with free floating driving instruments. Zetsche did admit that there are legal hurdles ahead such as liability in the case of an unavoidable accidents, but said those are "industry issues that we must resolve with a joint effort." He further explained that "quality time and private space will be the true luxury items of the future," and that these concepts will help us to achieve "the dream of freedom and mobility."
 
Innovation, connectivity and cross-industry collaborations defined this year's preshow press events starting with CES Unveiled Las Vegas, the official media event of the 2015 CES, on Sunday night. A record 109 tabletop displays, including 27 startups from Eureka Park – the CES exhibit area exclusively for startup companies – showed off a sneak preview of show floor product launches to come throughout the week. Drawing one of the largest media crowds in Unveiled history, this year's event featured companies debuting the latest in automotive electronics, fitness and sports, health and bio tech, immersive entertainment, Internet of Things, personal security, smart home tech, sensors, 3D printing, wearables and unmanned systems.