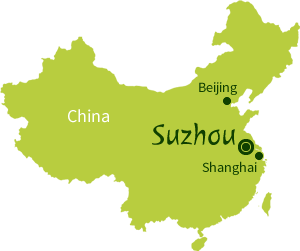 In hope of growing China's tourist industry, Suzhou Tourism launched its first-ever campaign to directly target North American travelers – the "Experience Suzhou: The Venice of China and the City of Scholars" sweepstakes starting September 21, 2015 through October 23, 2015 at www.TraveltoSuzhou.com/Sweepstakes. Available to residents of the Continental United States and Canada, the online promotion will award eighteen travelers (nine winners plus one guest each) a six-day visit to Suzhou between November 2015 and January 2016.
Situated just west of Shanghai, Suzhou is deeply rooted in culture and heritage as one of the oldest cities in the Yangtze Basin dating back more than 2,500 years. With its narrow streets and winding waterways, Suzhou truly lives up to its nickname as "Venice of China." Taking advantage of this hidden gem location, sweepstakes winners and their guests will enjoy a six-day package inclusive of round-trip coach airfare, accommodations at one of the city's top hotels, three meals daily, and a guided trip through the city each day. The trip itinerary will offer a quintessential Suzhou experience featuring visits to a selection of UNESCO World Heritage Sites such as the Humble Administrator's Garden and Lingering Garden, as well as Tiger Hill, Suzhou Museum, Pinjiang Road, Silk Museum, Tongli, and authentic experiences at iconic restaurants such as Songhelou and Deyuelou. The trip is the ultimate vacation adventure for anyone who wants to visit China and experience true Chinese culture.
Consumers will receive one point for their entry submitted on the sweepstakes website and will earn extra points for an improved chance to win by sharing their entry on social channels and correctly answering trivia questions within the entry form.
Sweepstake winners will be announced on www.TraveltoSuzhou.com/Sweepstakes on or about October 28, 2015. Travelers can stay connected with Suzhou Tourism throughout the campaign by visiting the destination website, TravelToSuzhou.com, "Liking" the Facebook page, and "Following" on Twitter.