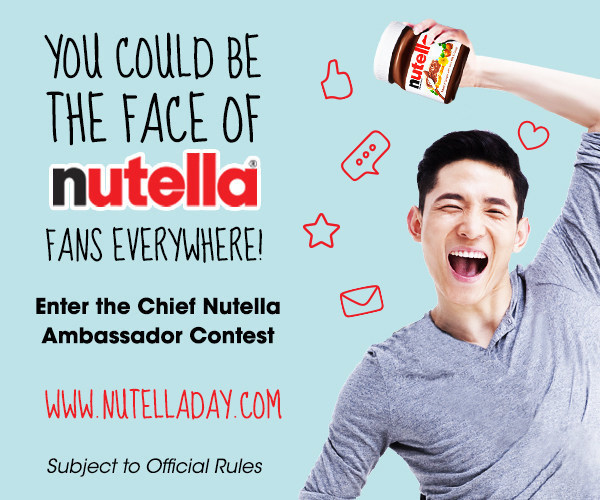 Are you obsessed with Nutella? Well, now is your chance to prove you are Nutella's number one fan because Nutella has announced its Chief Nutella Ambassador Contest through which U.S. fans can compete for the opportunity to be the Chief Nutella Ambassador to help the brand host next year's World Nutella Day celebration.
From September 21, 2015 through October 11, 2015, fans nationwide can enter for a chance to win the honor of being the Chief Nutella Ambassador, a one year supply* of Nutella hazelnut spread and a week-long trip to New York City. The Chief Nutella Ambassador will be treated to unique New York City experiences that include, among many other VIP experiences, hands-on culinary tours and fine dining that highlight Nutella. During the trip, the Chief Nutella Ambassador will also meet with Nutella representatives to help plan the events surrounding the upcoming World Nutella Day celebration on February 5, 2016.
"World Nutella Day is an occasion that Nutella lovers can call their own – their day to eat and enjoy Nutella and have fun spreading the happy. It was created by a fan, for the fans, and we want to continue that tradition," says Noah Szporn, Category Marketing Manager for Nutella at Ferrero U.S.A., Inc. "That's why this year, we want to give one of our fans a chance to help us celebrate this day and make it more special than ever before."
Interested fans can enter the Chief Nutella Ambassador contest by visiting the Contest website at www.Nutelladay.com and following the on-screen directions to enter, which includes submitting a short video that demonstrates how he/she would lead World Nutella Day. On November 16, 2015, five finalists will be announced and fans will have the opportunity to watch the finalists' campaign on social media and vote for their favorite finalist to help Nutella choose the Chief Nutella Ambassador who will lead World Nutella Day 2016.
The Submission Period for the contest ends at 11:59 EDT on October 11, 2015 and the winner will be annouced on January 11, 2016. All applicants who submit entries that meet the Video Submission Guidelines & Requirements will receive a free t-shirt. Four runner-ups will receive a one year supply* of Nutella.
*Awarded in the form of 5 cases of twelve (12) 13 oz. jars.