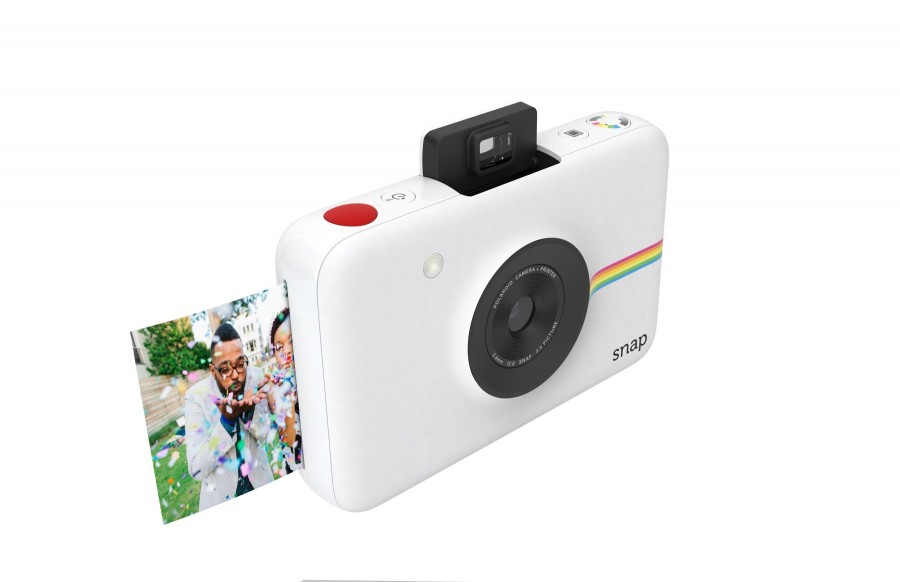 Remember the beauty of shooting, printing and waving it like a polaroid picture? That instant satisfaction of seeing your photo on paper? Well now Polaroid has introduced the Polaroid Snap instant digital camera at IFA 2015 in Berlin, Germany.
The newest addition to the brand's instant digital camera line, the Polaroid Snap delivers the instant simplicity and spontaneity that is synonymous with the brand, with a pocket-sized form factor and affordable price point. In addition to its compact footprint and classic Polaroid instant camera experience, the Polaroid Snapcombines digital imaging with the Zero Ink® Printing technology platform to enable users to easily print and share physical photos at the push of a button, while saving their image for easy uploading to a computer and any social media platform.
The Polaroid Snap camera's minimalist design features an updated look that incorporates design elements of legacy Polaroid instant cameras, such as the iconic Polaroid Color Spectrum. This is thanks to the efforts and insights of the renowned design firm Ammunition, the studio that was also behind the Polaroid Zip instant photoprinter and Polaroid Cube and Polaroid Cube+ lifestyle action cameras. With the Polaroid Snap, Ammunition created a sense of continuity between classic Polaroid cameras and current Polaroid products. Led by industrial designer Robert Brunner, Ammunition is the design studio behind award-winning consumer products for brands including Adobe, Beats by Dre, Square, Lyft, Obi Worldphone and Williams-Sonoma.
"Sharing, instant photography, and the idea of one snap, one print, are concepts that Polaroid developed over 75 years ago and that have long been engrained in the brand's identity. The Polaroid Snap puts a modern twist on classic Polaroid instant cameras by combining digital camera technology with a contemporary, minimalistic design at a price point consumers would expect to pay for an analog instant camera," commented Scott W. Hardy, President and CEO of Polaroid. "Our relationship over the past few years with Ammunition has resulted in some truly unique products that combine modern technology and innovative design, but still embody the Polaroid brand DNA. We look forward to continuing to work with Ammunition to bring to market easy-to-use and accessible products that enable consumers to instantly share their lives with their loved ones."   
The Polaroid Snap is a 10MP digital instant camera with an integrated printer using ZINK® Zero Ink Printing Technology, enabling users to instantly print full color, 2×3″ prints automatically when an image is captured. Thanks to its quick print abilities, consumers can shoot new images even while the Polaroid Snap is printing. Additionally, the camera features a Micro SD card slot that holds up to 32GB to save and easily transfer and upload images to a computer. With a clean and minimalist design, the Polaroid Snap offers a truly unique feature set including different capture modes—color, black and white and vintage Polaroid photo inspired.  The camera also features a photo booth mode, which takes six quick pictures in ten seconds, and the option of printing with or without the Polaroid Classic Border Logo format. These features enable users to easily add their own enhancements to the print before they even take their photo. Users can also take the perfect instant selfie thanks to the camera's self-timer feature.    
The Polaroid Snap instant digital camera uses the revolutionary ink-free Zero Ink® Printing technology developed by ZINK. The key to the ink-free system is the patented ZINK Paper®, an advanced composite material embedded with dye crystals and a protective polymer overcoat that uses heat to activate and colorize these crystals. The result is full-color, high quality, long-lasting and smudge-proof images without ink cartridges, ribbons or toner. The photo prints in just under a minute so consumers can instantly share the photo. Additionally, because ZINK Paper® is adhesive backed the photo can be used as a sticker.
Offered by C&A Marketing, an authorized Polaroid licensee, the Polaroid Snap instant digital camera will be on display in hall 3.2 booth #218 at IFA 2015, September 4-9. The camera will be available in black, white, red and blue in Q4 2015 for $99. For more information, please visit www.polaroid.com.