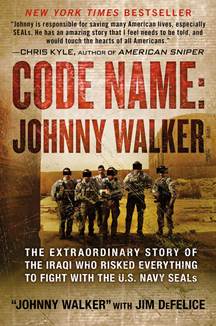 "Straight Outta Compton" writer and Co-Executive Producer Alan Wenkus has inked a deal to pen the screenplay adaption of the thrilling New York Times bestseller "Code Name: Johnny Walker," it was announced today by 28 Entertainment. The book, published by the Harper Collins imprint, William Morrow and co-written by Jim DeFelice, a co-author of "American Sniper," debuted last year on the New York Times best-seller list as one of the top sellers in nonfiction.
"Code Name: Johnny Walker" follows the exploits of an Iraqi citizen nicknamed "Johnny Walker" who worked with the U.S. Navy SEALs as a translator, eventually going out fully armed as part of different SEAL teams and risking his life on more than a thousand missions over a 6 year period. Johnny helped the SEALs track down some of the world's most treacherous terrorists and became a legend in the U.S. special-ops community. When Iraqi insurgents targeted Johnny and his family for torture and death because of his work with the Americans, the SEALs heroically took it upon themselves to bring Johnny and his family to the safety of the United States.
"Johnny is responsible for saving American lives, especially SEALs. He has an amazing story that I feel needs to be told, and would touch the hearts of all Americans." – Chris Kyle, the "American Sniper"
Brian A. Hoffman & Jay Hoffman of 28 Entertainment, along with producer Brett Harrison have been working with Wenkus and "Johnny" to develop the action-packed script. "'Johnny' is such a unique individual," said Brian A. Hoffman. "He experienced and saw things that most outsiders never get close to, but he was able to earn the trust of the SEALs in Iraq and in turn they looked to him as a brother."
"Johnny's story is a cinematic thriller, it goes far beyond what the book was able to cover," said Wenkus. "There are so many stories from SEALs about Johnny's heroics that are so captivating I know it has the potential to make an amazing film. It's a side of the Iraq situation that's never been told. Johnny started out as an Iraqi citizen who saw the beginnings of the rise of ISIS and worked with the SEALs to save hundreds of American and Iraqi lives, and possibly change the course of the war."
Wenkus is co-writer and co-Executive Producer of "Straight Outta Compton" which has been dominating the box office since its August release crossing $150 million at the box office this week. Directed by F. Gary Gray "Compton" has already been getting some awards season buzz.