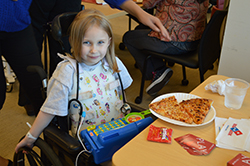 Yes, http://www.americanpizzacommunity.com is actually a thing! Pizzerias everywhere are celebrating the upcoming National Cheese Pizza Day on September 5th with the delivery of pies this week to children's and local charities in communities around the country.  Knowing that a slice of pizza can brighten anyone's day, members of the American Pizza Community wanted to salute the commemorative holiday by sharing the communal love of pizza with children and local communities. According to the pizza industry, pizza ranks as the top meal choice among kids year after year. 
Earlier this week, the American Pizza Community delivered dozens of cheese pizzas from Domino's, Hunt Brothers, Papa John's and Pizza Hut to the Nashville Chapter Boys & Girls Club in East Nashville, Tennessee.
Other pizza companies taking part in National Cheese Pizza Day celebrations with pizza donations in other communities include:
Domino's Pizza is donating to C.S. Mott Children's Hospital in

Ann Arbor, Michigan

.
Figaro's Italian Pizza franchise in

Philomath, Oregon

is donating to the local Police Department.
Pizza Schmizza Pub & Grub is donating to the Union Gospel Mission in

Portland, Oregon

.
Godfather's Pizza is donating to the Boys Town Residential Treatment Center in

Omaha, Nebraska

, part of the national

Boys Town

integrated system of child and family services.
Pizza Hut is donating pizzas to the Ronald McDonald Houses in

Wichita, Kansas

.
More than 5 billion pizzas are sold each year and cheese pizza remains the leading pizza type in menu mentions, according to the 2014 Pizza Power State of the Industry report by PMQ Magazine.