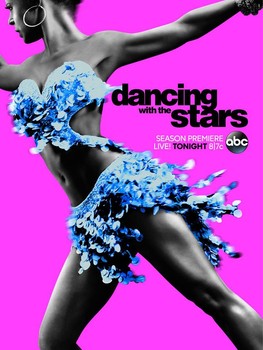 Dancing with the Stars returns for its 21st season with a two-night, two-hour premiere tonight September 14 at 8/7c on ABC  featuring an all-new celebrity cast, and they're ready to hit the dance floor! The episode will kick off with the biggest number in DWTS history shot on Hollywood Boulevard.
This seasons cast include a Backstreet Boy, a celebrity chef, a famed singer of the 1970s, and the daughter of famed wildlife expert Steve Irwin. The premiere will also feature each couple dancing a Cha Cha, Foxtrot, Salsa, Quickstep or Jive, vying for America's vote for the first time. No couples will be eliminated in Week 1, and they will all advance to Week 2 of the competition
On TUESDAY, SEPTEMBER 15 9|8c, tune in for night two, "Dancing with the Stars: First Dances." Viewers get the chance to see the couples' dances from the previous night one more time.  The show will also be packed with never before seen footage from the night before, extended training packages, and exclusive interviews with the couples. There will also be a special glimpse of what's to come on Week 2, which includes two nights of live shows. The pairs will be dancing new routines each night!