"Blood & Oil" Premieres September 27th (Sundays, 9:00-10:00 p.m., ET)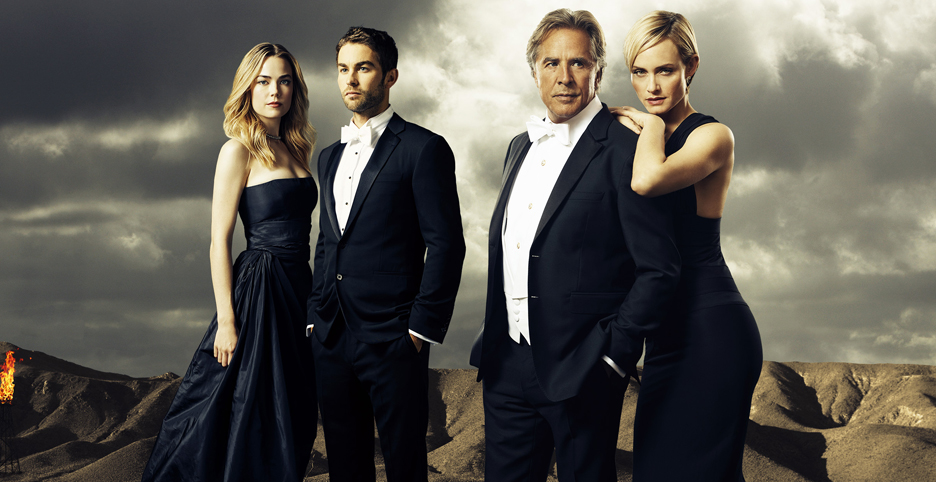 In their latest drama, "Blood & Oil," Billy (Chace Crawford) and Cody Lefever (Rebecca Rittenhouse) are a young, recently married couple with dreams bigger than their working-class upbringing.
Following the largest oil discovery in American history, they pack up and move from their small town in Florida to the wild boomtown of Rock Springs, North Dakota, where a millionaire is made every day. Intent on exploiting the local commerce, they plan to open a humble laundromat, which they've financed by raising money from friends and family. After arriving, they quickly realize Rock Springs is a modern day gold rush where people just like them are flocking in droves, all fueled by dreams of striking it rich.
Hap Briggs (Don Johnson) is the Baron of the Bakken of North Dakota and a legend in the oil business. His wife, Carla (Amber Valletta), brings a sophistication and worldliness to the oil fields, and is every bit Hap's equal in legacy building. As the boom reaches new heights, Hap is determined to prove he is not just a rich man, but a great man, willing to play a little dirty to get what he wants.After a rough start getting settled in Rock Springs, Billy becomes eager to cash in on the new world that surrounds him. When he makes a go of trying his hand in the oil business, he crosses paths with the Briggs as they embark on expanding their empire into new territory.
Tangling with titans is not for the faint of heart, and when Billy bets big, it causes Cody to question his intentions, and ultimately their marriage. Is this their American dream, or unchecked ambition?