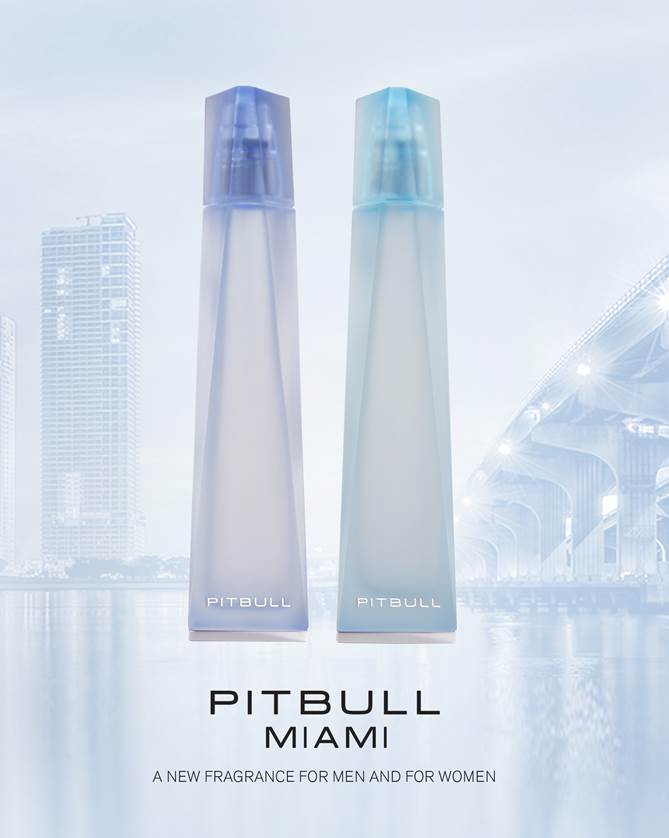 Armando Christian Perez, AKA PITBULL – the globally successful music icon and business entrepreneur, announces today the launch of his brand new scents Pitbull Miami Man and Pitbull Miami Woman.
Inspired by the vitality of the sexy playground of South Beach, these fragrances embody the electric energy of Miami's nightlife with provocative and seductive notes that encompass the Miami state of mind. Evoking the city's celebratory vibe, Pitbull Miami Man and Pitbull Miami Woman are designed to bring people together with a magnetic pulse.
"I fell in love with Miami as a little kid," says Armando Christian Perez (Pitbull). "I wanted to bottle the city's uniqueness in the Miami fragrances, so the world can fall in love the same way I did…305 till I die."
PITBULL MIAMI MAN
Created by Pitbull and Givaudan perfumer Caroline Sabas, PITBULL MIAMI MAN is a citrus fougere scent of confident and seductive masculinity.
Top Notes
A burst of sundrenched citrus top notes of grapefruit, lemon, pink peppercorn instantly awakens the senses.
The Heart
Warm spice cardamom paired with unexpected apple and cool wave notes for an undeniably sexy twist.
The Base
A seductive blend of creamy cedarwood and sandalwood melts into sensual warm musks and rich amber for a dry down that leaves a lasting impression.
PITBULL MIAMI WOMAN
Refreshing and cool, PITBULL MIAMI WOMAN is reminiscent of a sun shower after a hot summer's day spent in the sand and surf. The fruity floral scent created by Pitbull and perfumer Steve DeMarcado of Fragrance Resources encompasses a crisp, luminous and modern attitude.
Top Notes
Juicy wild casaba melon and strawberry passion fruit ice are mixed with the brightness of Italian lemon and fresh white peach.
The Heart
Rain drenched gardenia, blue lotus flower, jasmine sambac and orange blossom join in the sleek feminine floral heart.
The Base
Sun drenched teak, Haitian vetiver and exotic sandalwood balance out with a super sexy finish.

Designed by Pitbull, the frosted bottles express a softer side of sexy, with transparent shades reminiscent of the turquoise waters and the endless blue skies that surround the skyscrapers of Miami. Each follows the signature Pitbull Fragrance silhouette, with sophisticated, sleek angles and lines rising to the cap. The packaging image of Mr. 305 in his hometown reflects the exciting pulse of the Miami party scene that bridges day into night. 
PITBULL MIAMI MAN and PITBULL MIAMI WOMAN are sold for a suggested retail price of $35 USD/1.0 oz., and $55 USD/3.4 oz. Available August 2015 at Sears, Walmart, Perfumania.