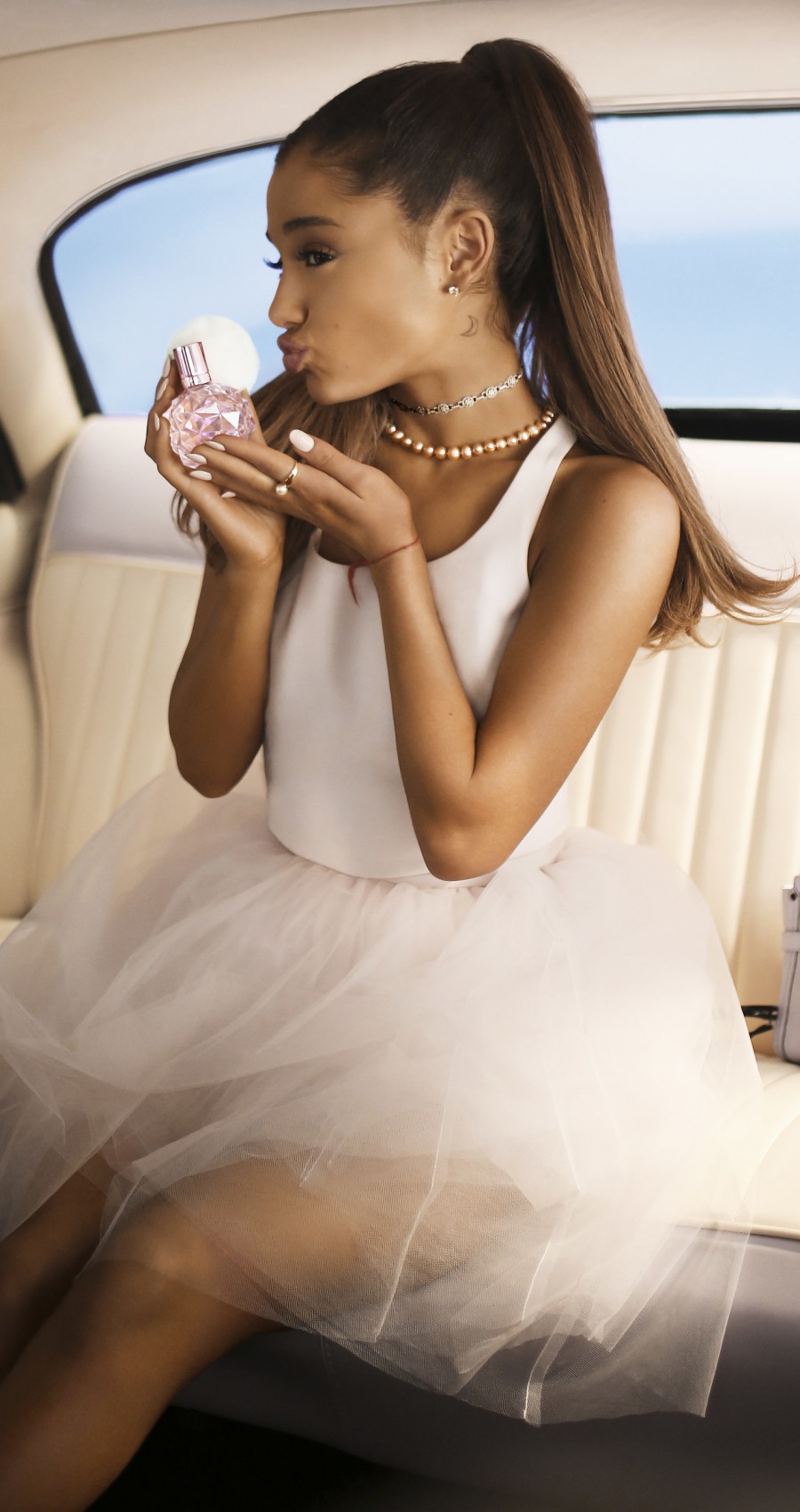 And the celebrity fragrances keep on coming… Actress and internationally acclaimed recording artist Ariana Grande announced her signature scent, ARI by Ariana Grande. The megastar's highly anticipated first fragrance, in partnership with LUXE Brands, is set to take over prestigious retailers globally this September.
"I love fragrance, it is something I have been obsessed with all my life. As a fragrance debut of my very own, I really wanted it to be personal, that's why I named it ARI," says Grande. "I love everything about it. It is so fun and true to me. The scent is sweet, yet sexy, with some surprises underneath."
As an industry leader, the prestige beauty company LUXE Brands welcomes ARI by Ariana Grande as the first celebrity fragrance to join their portfolio of world-renowned beauty brands.
"We are thrilled to have partnered with such an influential and exciting artist like Ariana Grande; we confidently anticipate this will be one of the most successful launches in the company's history," says Tony Bajaj, president and chief executive officer of LUXE Brands.
Together, Designer Parfums and LUXE Brands will launch Ari by Ariana Grande concurrently in the U.S. and top international markets.
The luscious fragrance opens with a mixture of fruits inspired by Grande's effervescent personality. The bright top transforms into a feminine bouquet of soft flowers, unexpectedly spun with marshmallow, creamy musks and blonde woods, capturing Ariana's romantic and sensual nature.
Top
Crispy Pear, Pink Grapefruit and Juicy Raspberry
Heart
Soft Muguet, Rose Buds and Vanilla Orchid
Drydown
Marshmallow, Creamy Musk and Blonde Woods
THE DESIGN
Stunning from every angle, the ultra-feminine bottle design is beautifully crafted with signature design queues. Highlighted by its faceted gem-like shape and rose gold accents, the bottle evokes sophistication, grace and elegance. For an added wink of surprise, the bottle includes a plush removable white Pom Pom as a playful nod to the many facets of Grande's vivacious and dynamic style. For a sparkling touch, the bottle glows with a tint of blush pink from the fragrance.
The carton complements the modern feel of the bottle, while keeping it both, upscale and fresh with its classic colors and finishes. Trimmed with a gold art deco pattern, the lavender carton features timeless black and white portraits of Ariana – one image reveals Ariana's beautiful glam style, while the other visual captures her fun and flirty confidence. The fragrance name is uniquely inlayed atop the image in a matching lavender font – Ariana's favorite color. Added for personal flair, Grande's handwritten signature lovingly appears at the top of each carton.
| | |
| --- | --- |
| THE PRODUCTS | |
| Eau de Parfum Spray, 3.4 fl. oz./100ml | $59.00 |
| Eau de Parfum Spray, 1.7 fl. oz./50 ml | $49.00 |
| Eau de Parfum Spray, 1.0 fl. oz./30ml | $39.00 |
| Body Lotion, 6.8 fl. oz./200 ml | $20.00 |
| Hair Mist, 5.0 fl. oz./150 ml | $20.00 |
| Eau de Parfum Rollerball, .34 fl. oz./10 ml | $20.00 |
| Coffee Scrub, net wt. 5.3 oz./150 g | $20.00 |
All prices are manufacturer's suggested retail prices in US dollars.
Available September 2015 in the US at Macys, Ulta, Bonton, Lord & Taylor and Stage, and in Canada at Shoppers Drug Mart.
For more details, visit: www.arianagrandefragrances.com