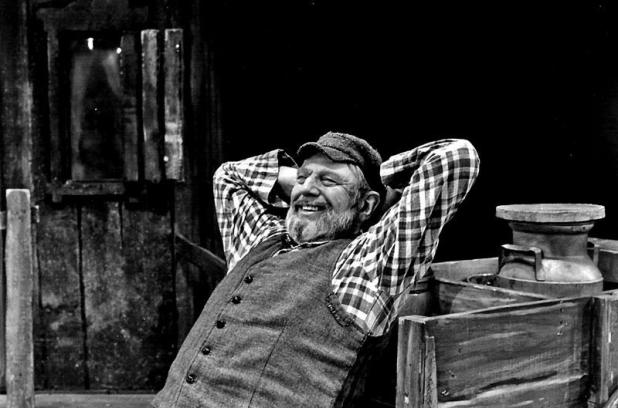 Photo: http://www.houstontheatre.com/broadway/fiddler.html
Bikel in the National Tour of "Fiddler On The Roof"
From the stage to the screen, actor Theodore Bikel made his mark in the spotlight. The respected actor passed away on Tuesday morning in Los Angeles at the age of 91.
Bikel originated the role of Captain von Trapp in "The Sound of Music" on Broadway and became most famous for portraying the protective father, Tevye in "Fiddler on the Roof." 
On screen, Bikel was nominated for an Academy Award in 1959 for Best Actor in a Supporting Role in "The Defiant Ones." If you're a "Star Trek: The Next Generation" fan, then you know Bikel from his 1990 appearance as the father of the Klingon Worf.
Other notable works include, John Huston's 1951 classic "The African Queen" and Huston's "Moulin Rouge," "My Fair Lady," "The Pride and the Passion" and "The Enemy Below."
Bikel was president of the Associated Actors and Artistes of America, a federation of trade unions for performing artists in the U.S. including Actors' Equity and the Screen Actors Guild. He was also active in Actors Equity before serving as president in the late '70s and early '80s.