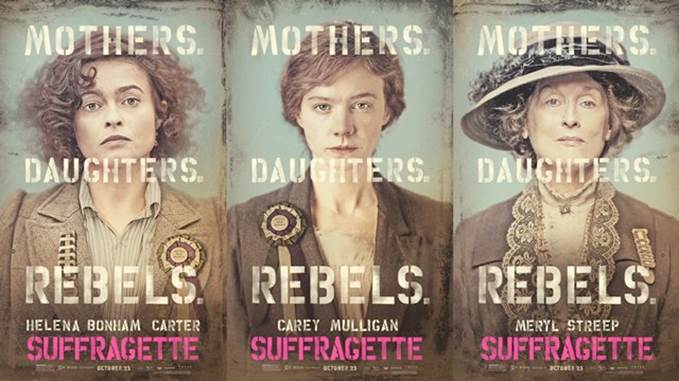 Today is Emmeline Pankhurst Day in the U.K., a day that pays tribute to the fight for women's suffrage and equal rights for women led by activist Emmeline Pankhurst. Beginning in the early 20th century, her work and that of the thousands of women she rallied as suffragettes had an effect that reached across the globe, eventually helping to gain women equality in numerous other countries. In honor of Ms. Pankhurst, the official artwork for the upcoming film, "Suffragette", is being debuted.
The film fetures three-time Academy Award winner Meryl Streep as the Pankhurst along fellow nominees Carey Mulligan and Helena Bonham Carter. The drama centers on Maud (played by Carey Mulligan), a working wife and mother whose life is forever changed when she is secretly recruited to join the U.K.'s growing suffragette movement. Galvanized by the outlaw fugitive Emmeline Pankhurst (Meryl Streep), Maud becomes an activist for the cause alongside women from all walks of life. When increasingly aggressive police action forces Maud and her dedicated fellow suffragettes underground, they engage in a dangerous game of cat-and-mouse with the authorities, who are shocked as the women's civil disobedience escalates and sparks debate across the nation.
"Suffragette" opens in New York and Los Angeles on October 23rd, and explands nationwide in the following weeks.