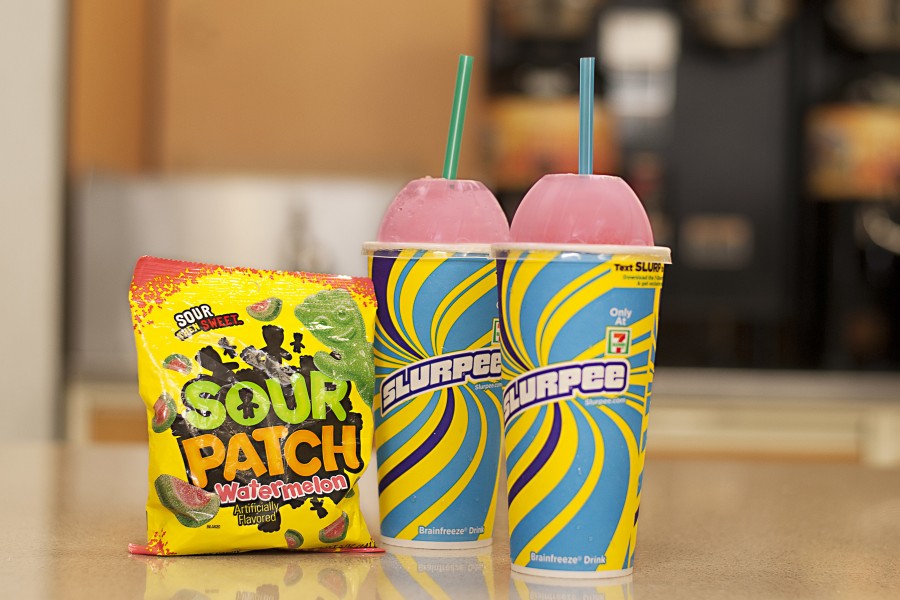 7-Eleven®'s Sour Slurpee® Summer – try saying that three times fast. Now try saying it eating a SOUR PATCH KIDS® candy … or … drinking a FREE SOUR PATCH Watermelon-flavored Slurpee drinkand taking a selfie to post on social media.
July 25 is SOUR PATCH KIDS Day at 7-Eleven stores, and the retailer is celebrating with a free medium Slurpee drink offer activated with the purchase of any SOUR PATCH KIDS candy or STRIDE® SOUR PATCH KIDS gum and scan of 7-Eleven's mobile app available at participating stores all day. After downloading the 7-Eleven app, customers will automatically receive the offer via a coupon in the "Scan and Save" section of the 7-Eleven app.
To spread the word on social media, the SOUR PATCH KIDS Slurpee Selfie Challenge campaign encourages fans to post selfies of themselves on social media using the hashtag, #SPKSlurpeeSelfie. Here's one Slurpee Selfie idea:
Drink a SOUR PATCH Watermelon-flavored Slurpee drink.
Place SPK® candy on tongue.
Open wide and take a selfie photo of SPK candy on tongue.
Post with #SPKSlurpeeSelfie hashtag and challenge friends to post their own version of an SPK Slurpee selfie.
While that is one suggested selfie composition, all selfies that include Slurpee drinks and SPK candy are welcome.