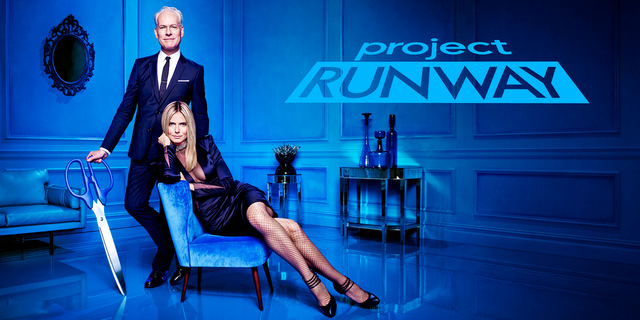 Emmy nominated Project Runway returns with sixteen new hopefuls competing for fashion glory, starting on Thursday, August 6, at 9pm on Lifetime. The fashion adventure of their lives will only last as long as they continue to impress judges Heidi Klum, Nina Garcia and Zac Posen, and mentor Tim Gunn.  Guest judges this season include Ruby Rose, Tracee Ellis Ross, Paula Patton, Ashley Tisdale, Ciara and many more.

The Project Runway Season 14 designers are:
Amanda Perna, 28 – Delray Beach, FL
Ashley Nell Tipton, 23 – San Diego, CA
Blake Patterson, 24 – Chardon, OH and Los Angeles, CA
Candice Marie Cuoco, 27 – San Francisco, CA
David Giampiccolo, 31 – Brussels, Belgium and Los Angeles, CA
Duncan Chambers-Watson, 25 – Christchurch, New Zealand
Edmond Newton, 36 – Union, South Carolina and Atlanta, GA
Gabrielle Arruda, 27 – Brooklyn, NY
Hanmiao Yang, 26 – Chengdu, China and New York, NY
Jake Wall, 35 – San Luis Obispo and San Francisco, CA
Joseph Poli, 37 – San Diego, CA and Las Vegas, NV
Kelly Dempsey, 31 – Monson, MA and Boston, MA
Laurie Underwood, 29 – Chicago, IL * Lindsey Creel, 28 – Austin, TX
Merline Labissiere, 32 – Miami, FL and Savannah, GA
Swapnil Shinde, 33 – Mumbai, India
The winner of will receive $100,000 to launch his or her business and a Celebrity Cruises(R) modern luxury vacation for two to almost anywhere in the world. Sally Beauty will supply a year's worth of products and the opportunity to consult with Sally Beauty to create a limited edition "FingerPaints" nail color collection. Travel and hotel accommodations to inspiring destinations around the world will be provided by Best Western International and from Mary Kay, the winner will receive an entire year's worth of beauty products for their fashion shows and professional makeup artist services for their debut show. The winner also receives a 2015 Lexus RC 350 and a complete sewing and crafting studio from Brother Sewing and Embroidery. The winning designer and model will also receive a fashion spread in Marie Claire magazine.