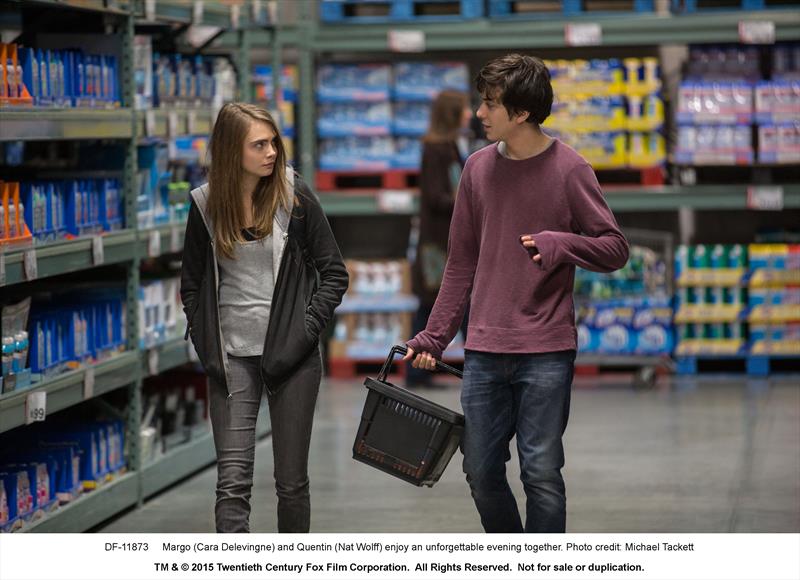 In the micro-attention span, remixed world of today's teenage population, it only makes sense that the best new teenybopper pic hitting the silver screen somehow mixes almost every genre cliché into a brisk, creative and refreshing package. That's "Paper Towns" in a nutshell. The latest adapted work from YA powerhouse John Green, who first blew up the box office last year with "The Fault In Our Stars." Combining elements of the teen road trip movie with classic bits and pieces of everything from the raunchy high school comedy to the intellectual indie coming-of-age pic, "Paper Towns" manages to be a truly stimulating story despite offering almost nothing new to the genre as a whole.
Bringing back the same screenwriting team of Scott Neustadter and Michael H. Weber, who also adapted Green's "The Fault in Our Stars," the pair waste no time in introducing the audience to high school senior Quentin (Nat Wolff)—Q for short. The writers also make it brutally obvious what Q desires most in life… Forget the all American girl next door. We find out early on that Q spent his entire life living across the street from the single most awesome girl ever. And that's no exaggeration. For Q, no girl can even begin to compare to Margo (Cara Delevingne).
A brief prologue shows us that when the two were younger they were actually pretty good friends. But time tends to wrench people apart, and as the audience is introduced to the present day Margo and Q they have completed gone their separate ways.
That doesn't mean Q hasn't given up hope, however, that one day he will land the girl of his dreams.
In typical PG-13 teen romance fashion, Quentin—as the central protagonist—is a slightly awkward but genuinely 'nice-guy' who spends his days hanging around with his equally nerdy pals Ben (Austin Abrams) and Radar (Justice Smith). The three live predictable lives filled with routine and lots and lots of angsty banter. Margo, on the other hand, is about as free spirited as they come. Continually running away from the clutches of her aloof parents, she goes where she wants, does what she wants, and gets the most out of life at every turn.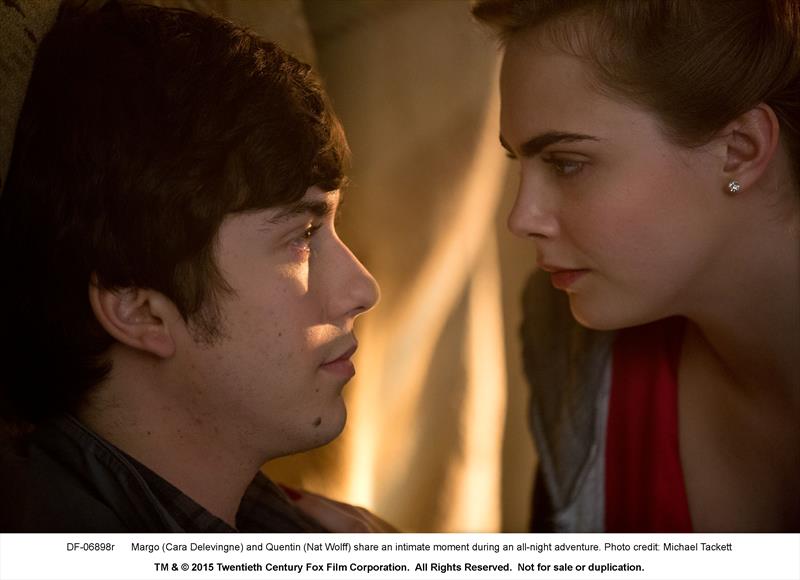 There's no denying that the opening twenty minutes or so of the film are overwhelmingly clichéd, but the action really picks up when Margo climbs through Q's bedroom window one night, in search of a partner in crime in getting revenge against her cheating boyfriend. Breaking out of his comfort zone, Q tags along and experiences probably the best night of his entire 18-year life. But just when things were looking good, Margo doesn't show up at school the next day. Or the day after. Or the day after that.
Margo's disappearance prompts Q to start searching for her. And soon enough he is road-tripping from his hometown of Orlando all across America in order to find the girl of his dreams.
"Paper Towns" definitely does not tread lightly on many familiar themes this type of movie tends to focus on. The whole coming-of-age/discovering that you are just as attractive inside as you are on the outside motif is laid on pretty thick. Luckily, some great acting, a fantastic soundtrack, and a brisk storyline helps save the film from ever warranting eye-rolls.
Wolff, who was also part of "The Fault in Our Stars" cast is terrific. His easygoing charisma is exactly what the character of Q needs to be. Delevingne is also perfectly cast. Mysterious, uncompromising, passionate—and not to mention incredibly attractive—Delevingne proves that she is more than just a pretty face. She's not just a model, but an able actress as well. The supporting cast, including Austin Abrams (Gangster Squad), Justice Smith (TV's The Thundermans), and Halston Sage (Neighbors) are all also equally entertaining throughout.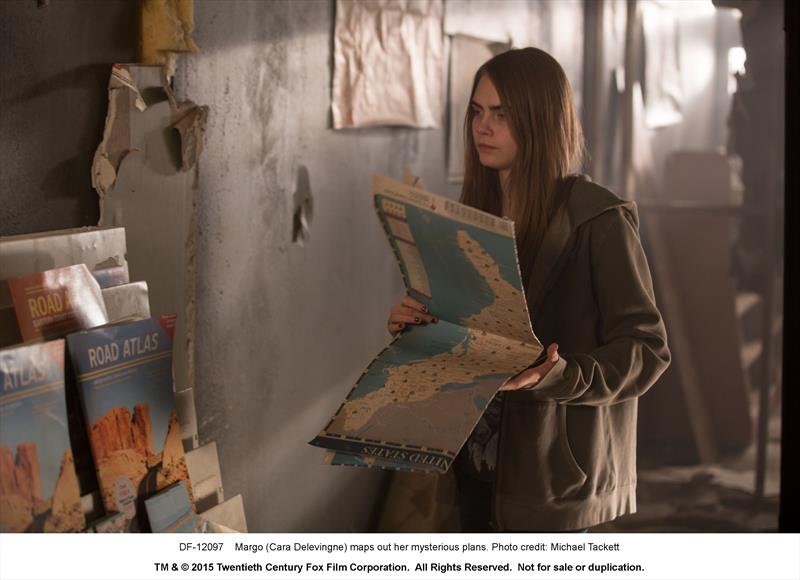 Wrapping everything up in a neat package is director Jake Schreier (Robot & Frank). Schreier uses plenty of kinetic camera work to keep the film moving and never lets the action flat line into melodrama. Utilizing a pop-heavy soundtrack and some pretty cool aerial shots of the greater Orlando area, the overall feel of the movie is trendy enough to capture the imagination of all teens that buy tickets this weekend.
By definition, a "Paper Town" is a fake town that cartographers would put on their maps in order to alert them of any counterfeiting. Even though the movie of the same name borrows a lot from others in the genre, "Paper Towns" is no counterfeit. It's a unique story that will captivate the hearts and minds of its high school teen target.
By David Morris
Rated PG-13 for some language, drinking, sexuality and partial nudity – all involving teens
Running Time: 1hr 53min