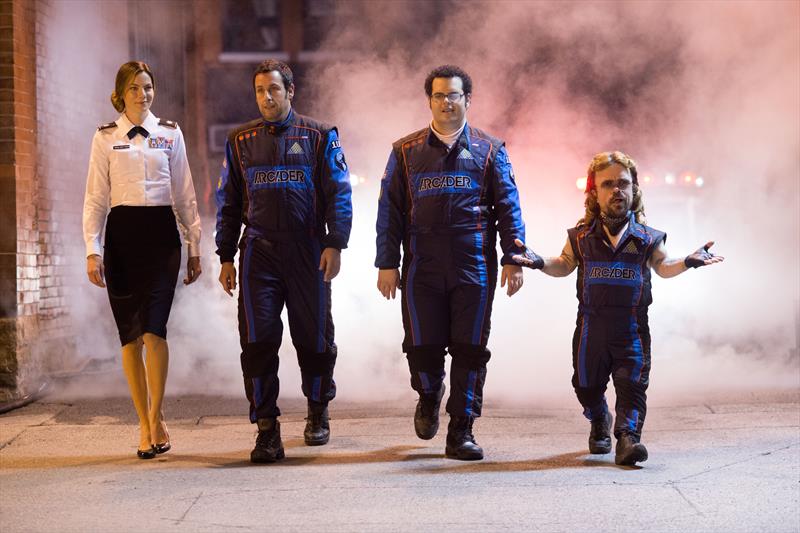 As American audiences well know, summer wouldn't be complete without a brainless Adam Sandler movie; and just like clockwork, he arrives in a theater near you this Friday with "Pixels," an action comedy costarring Kevin James, Josh Gad, Michelle Monaghan and Peter Dinklage.
Directed by Chris Columbus ("Home Alone," "Harry Potter and the Sorcerer's Stone") from a script by regular Sandler collaborators Tim Herlihy and Timothy Dowling, this piece of arcade game nostalgia ekes by with its catchy premise and scintillating special effects but never lives up to its potential due to deficiencies in the story and acting departments. With a concept geared toward the arcade children of the 80's and 90's, but humor best suited to young teenagers, "Pixels" suffers from attempting to appeal to too many demographics.
Beginning in the summer of 1982, before the rise of personal gaming systems, "Pixels" centers on pals Sam Brenner (Adam Sandler) and Will Cooper (Kevin James), a couple suburban kids recently introduced to the wonderful world of the arcade. Along with local wiz-kid Ludlow Lamonsoff (Josh Gad), the gamers while away their summer days honing their joystick skills on such classic games as Gattaca, Donkey Kong and Pac-Man, leading Brenner to a successful trip to the arcade championship.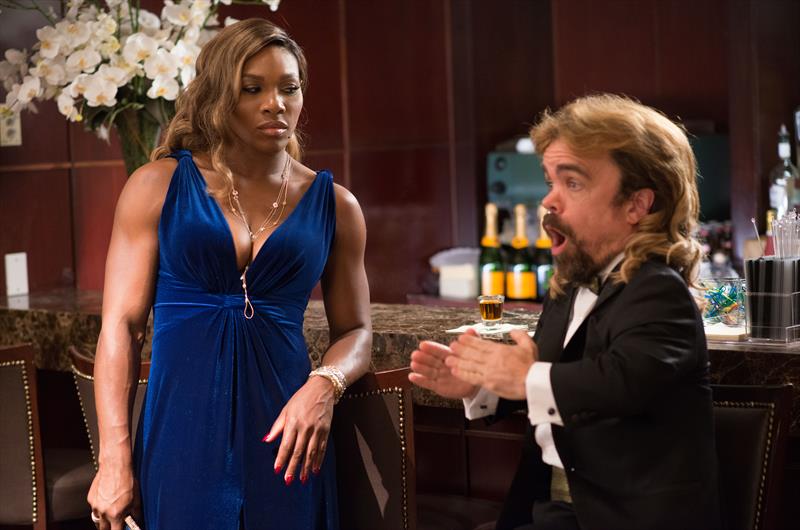 Around this time, in an attempt to communicate with alien life forms, NASA launches a time capsule into space, and among its contents are video feeds of beloved arcade games.
Cut to present day, Brenner the Donkey Kong prodigy is now a lonely home theater installer while the bumbling Cooper has become, you guessed it, President of the United States. With his approval rating at an all-time low, Cooper's presidency faces an even bigger setback when an Air Force base is destroyed by an extraterrestrial attack that looks suspiciously similar to the game Gattaca. Turns out aliens did discover the time capsule after all, but misinterpreted the video games as a declaration of war and decided to use the technology against us.
Since the War Department isn't equipped to handle such an unusual attack, Cooper enlists the help of his Pac-Man pals to combat the alien invaders. Along with childhood rival Eddie "Fire Blaster" Plant (Peter Dinklage) and a sassy weapons developer (Michelle Monaghan), the globetrotting gamers use their arcade skills to defend the planet against a slew of Atari-inspired attacks.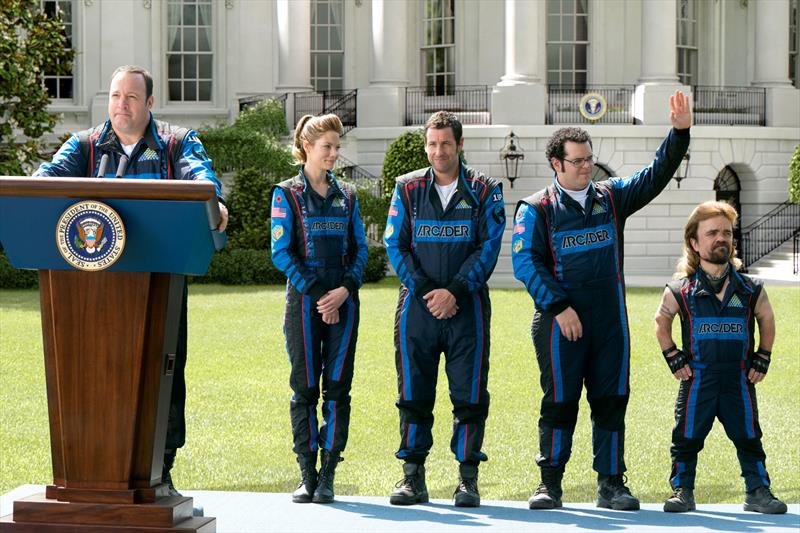 Those who grew up in the arcade heyday will have an especially sentimental attachment to the high-concept premise of "Pixels," as it not only incorporates the games themselves but the rules that governed our joystick-controlled existence (Shoot Centipede in the head, not the body! Use the hammer on the Donkey Kong barrels!). Unfortunately, nostalgia aside, the film is hindered by yet another defiantly thin screenplay from the Sandler laugh factory, replete with scatological humor, one-note characters and implausible romantic subplots. "Pixels" is undoubtedly at its best during the three main battle sequences, when the creaking plot mechanics are set aside for some eye-popping arcade-style action. And while these set pieces do somewhat atone for the sheer nonsense surrounding them, one can't help but wonder what the film could've been were it not fashioned as a run-of-the-mill Happy Madison production.
Acting wise, it's the usual suspects up to the same old shtick, with Sandler as the endearing curmudgeon, Kevin James as the sulky klutz and Josh Gad as a bad-tempered brainiac. Notable exceptions include Peter Dinklage as the criminally inclined gamer whose tendency to cheat gets the group in hot water, and Michelle Monaghan as a weapons developer who inexplicably falls for Sandler's flirty insults.
A so-so action comedy that could've been much better, "Pixels" lacks the wit required to deliver on the promise of its heady premise.
By Lucas Mirabella
Rated PG-13 for some language and suggestive comments
Running Time: 105 minutes