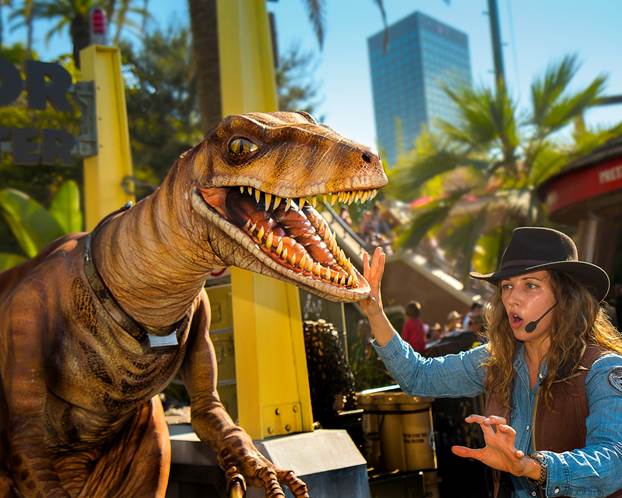 The ferocious predatory Velociraptors that gained notoriety in the Jurassic Parkblockbuster movies and sprang to life in "Jurassic Park—The Ride" at Universal Studios Hollywood will be unleashed in an all-new exciting "Raptors Encounter" experience at The Entertainment Capital of L.A. that pits guests in a daring face-to-face standoff with these terrifying, now free-roaming carnivores.
Tipping the scales at a hefty 750 pounds, towering 15 feet in height and 13 feet from tail to snout, the aggressive Cretaceous-era dinosaurs will each succumb to highly skilled handlers who adeptly guide them to within feet of guests in a specially themed area of the park, located adjacent to "Jurassic Park—The Ride." 
Highly intelligent creatures, Raptors—short for Velociraptors—are notorious hunters, who in recent years have undergone intense training by adept handlers as part of these unusual guest interactions. This Universal Studios Hollywood introduction marks their first West coast theme park foray with guests. 
Each one of the Raptors displays intimidating eye contact and emits ear-piercing screeches to reinforce their predatory dominance.  Their snouts alone measure nearly 20 inches and house 56 razor sharp, bone-crushing teeth. With curved talons measuring up to 12 inches on each of their 18 inch-long feet, Velociraptors are formidable hunters and theme park guests are advised to approach them with caution.
To see the "Raptors Encounter" in action at Universal Studios Hollywood, please click here.
bor Day.