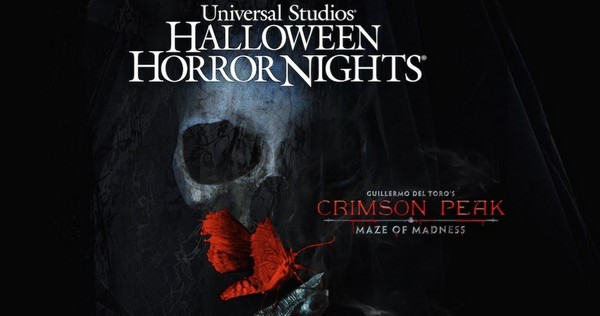 Legendary and Universal Pictures' much-anticipated "Crimson Peak," directed, co-written and produced by filmmaker Guillermo del Toro, will come to life in a terrifying new "Halloween Horror Nights" maze at Universal Studios Hollywood. "Guillermo del Toro Presents Crimson Peak: Maze of Madness" will be unearthed as a three-dimensional living representation of the film, designed to send guests spiraling through the chilling world and in the footsteps of Crimson Peak's lead character, Edith Cushing, first as they venture from her home in America, then to the decaying and haunted Allerdale Hall mansion in a remote English countryside.
"I am a devoted fan of Universal Studios' 'Halloween Horror Nights,' and I am honored to partner with them to create a real-life version of my Gothic Romance, Crimson Peak," said Guillermo del Toro. "It's a thrill to work with the movie studio that gave birth to the modern horror movie genre. I can't wait for movie-goers to enter the haunting world of Crimson Peak as they navigate this haunting maze. I can assure you, I will be first in line to experience the scares of it myself."

"Guillermo del Toro is a leading visionary in film, and Crimson Peak provides endless opportunities to immerse guests into the terrifying world that he created," said John Murdy, Creative Director at Universal Studios Hollywood and Executive Producer of "Halloween Horror Nights."  "From the haunting score by Fernando Velázquez to the incredibly detailed set design and scream-inducing ghosts, we will recreate an authentic experience that will have guests feeling as trapped in our 'Crimson Peak' maze as the film's lead character."
The maze will be open beginning Friday, September 18, 2015. "Crimson Peak" opens in theaters on October 16.