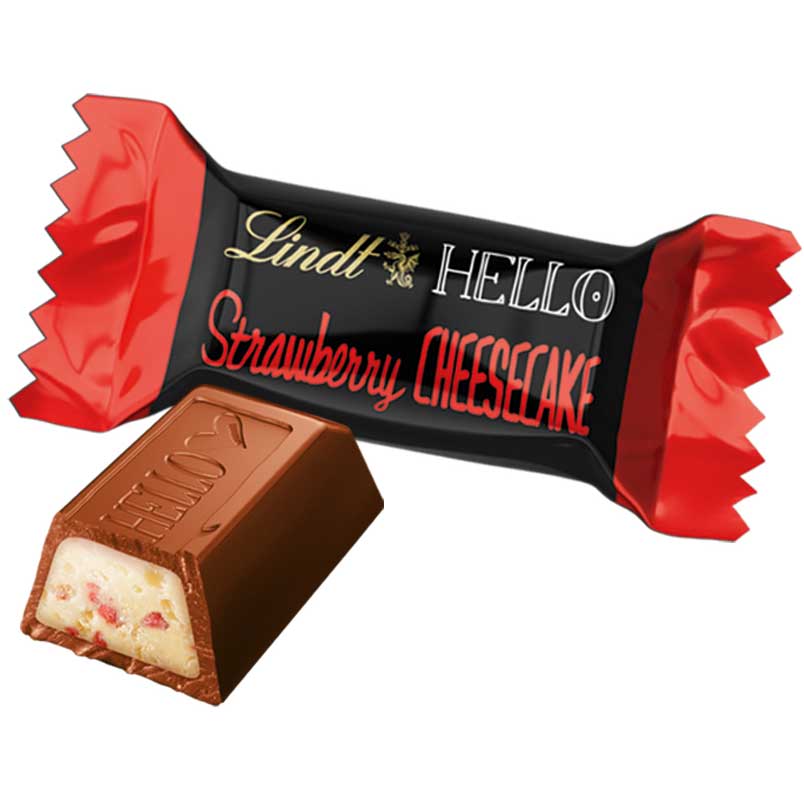 Why? Because, it's National Cheesecake Day! Of course, the traditional cheesecake comes in slice form – but Lindt Chocolate is changing it up with their BITES, bars and sticks… in Strawberry Cheesecake!
Say "hello" to the first-ever, bite-sized offerings from Lindt USA, proving that big tastes can come in small bites. Lindt HELLO Bites, the latest addition to the Lindt HELLO collection, feature three mouthwatering flavors covered in premium milk or dark chocolate: HELLO Pretzel Bites, HELLO Toffee Bites and HELLO Minty Bites.
Bars: HELLO bars are not your ordinary candy bars, with ten filled squares that make up each bar, covered in smooth premium chocolate.
Sticks: HELLO sticks are trendy treats designed for chocolate lovers on-the-go. With six tasty pieces, you can savor one by one or eat them all at once. The sticks are just the right size for an afternoon fix.

Available in Caramel Brownie, Cookies & Cream, Crunchy Nougat,

Strawberry Cheesecake

, Dark Chocolate Cookie, Sweet Popcorn and Salted Caramel.

Mini Stick Bags:Each HELLO mini stick bag is filled with individually wrapped, bite-sized mini sticks of chocolate, filled with one of four bold flavors.

Available in an assorted mix of Caramel Brownie, Strawberry Cheesecake, Cookies & Cream, and Crunchy Nougat.