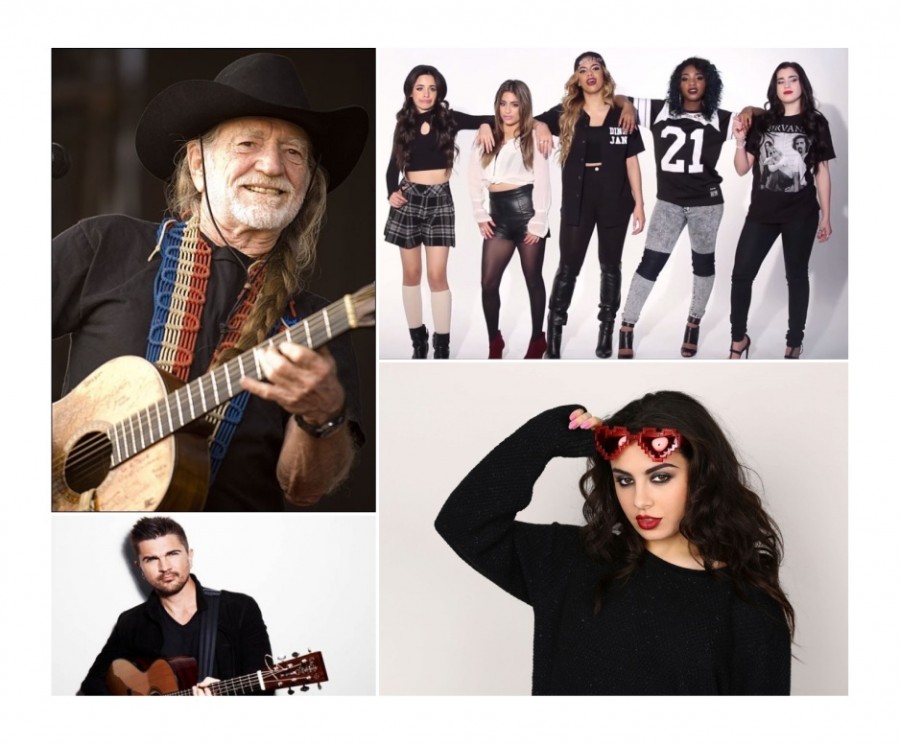 The Toyota Summer Concert Series at the Pacific Amphitheatre at the 2015 OC Fair features 24 nights of country, pop, reggae, classic rock and comedy offering concertgoers a variety of entertainment options to select from this summer. The 2015 Summer Concert Series begins Thursday, July 16 with a pre-Fair performance by America with Pacific Symphony and closes Sunday, August 16 with a performance by Austin Mahone / Kalin and Myles. Concert tickets, as always, include free OC Fair admission for the same day.
America with Pacific Symphony
Thursday, July 16, 8 p.m. Tickets start at $26.
This pre-Fair concert will feature perennial classic-rock favorite, America, who is also celebrating its 45th anniversary and will perform some of their greatest hits live at the Pacific Amphitheatre. America is best known for "A Horse With No Name" and "Ventura Highway." America will be joined by Orange County's own Pacific Symphony, which is celebrating its 36th season. Concertgoers can return with their ticket stub any day the 2015 Fair is open (July 17-August 16, Wednesday-Sunday) to redeem it for free Fair admission.
Gabriel Iglesias
Friday, July 17, 8:15 p.m. Tickets start at $39.50.
Gabriel Iglesias offers a high-octane comedy show packed with parodies and stories from his personal experiences. In addition bring laughs around the world, Gabriel has been seen on TV on Comedy Central, "Family Guy," "Jimmy Kimmel Live," "Good Morning America" and "The Late Late Show with Craig Ferguson."
Iration / Common Kings
Saturday, July 18, 7 p.m. Tickets start at $24.50.
Iration offers a fusion of reggae, rock and pop with smooth original sounds that have audiences dancing and feeling the mellow vibes that have earned this Santa Barbara band the top spots on iTunes and Billboard charts for best reggae albums and songs. Common Kings is an Orange County band that produces head-bobbing hits fusing Polynesian roots, rock, reggae and rhythm & blues vibes.
Willie Nelson & Family and Alison Krauss & Union Station Featuring Jerry Douglas
Sunday, July 19, 7 p.m. Tickets start at $40.
Since the 1970s, Willie Nelson has been a highly influential vocalist, songwriter, bandleader and musician. The Texas-native is a member of the Grand Ole Opry, was inducted into the Country Music Hall of Fame in 1993 and is known for hits like "On the Road Again" and "Always On My Mind." Alison Krauss began her musical career at the young age of 14 and in 1989 teamed up with Union Station as a fiddle-playing lead vocalist. She is joined by Union Station with Jerry Douglas (Dobro, lap steel and vocals), Dan Tyminski (guitar, mandolin and lead vocal), Ron Block (banjo, guitar) and Barry Bales (bass). Jerry Douglas is internationally recognized as the best Dobro, an American brand of resonator guitar, player in the world with 13 Grammy Awards and numerous national awards.
Charli XCX / Bleachers
Wednesday, July 22, 7:30 p.m. Tickets start at $25.
Charli XCX is an English singer/songwriter who offers electric power-pop music like "Boom Clap," which was her first Top 10 on the Billboard Hot 100 as a solo artist. Bleachers was formed secretly by Jack Antonoff of Fun., and early last year released their first single, "I Wanna Get Better" to the surprise of indie pop fans.
The Band Perry / Annie McQueen
Thursday, July 23, 7:45 p.m. Tickets start at $34.50.
The Perry siblings, Kimberly, Neil & Reed, have been enjoying a whirlwind of success since debuting on the country music scene in 2010. Having won multiple country music awards as well as numerous other nominations, The Band Perry has cemented its place in music lovers' hearts with their thoughtful lyrics and bold creativity. California-native Annie McQueen offers smoky and sultry Americana folk music with her own unique flare and rock 'n' roll vibe.
Steve Miller Band
Friday, July 24, 8:15 p.m. Tickets start at $29.50.
Formed in 1966 in San Francisco, classic rock icon  Steve Miller Band is led by vocalist and guitarist Steve Miller and is known for hits like "Fly Like an Eagle," "Take the Money and Run" and Space Cowboy."
Capital Cities / Big Data
Saturday, July 25, 7:30 p.m. Tickets start at $28.50.
Capital Cities is an indie electro duo from Los Angeles that have been offering upbeat melodies since 2010 when it's independently release single "Safe and Sound" was a viral hit, earning them attention and a contract with Capitol Records. Big Data is an electronic music project led by producer Alan Wilkis. Best known for its hit "Dangerous," this New York group offers songs that challenge modern technology.
The Happy Together Tour  
Sunday, July 26, 8 p.m. Tickets start at $19.50.
The Happy Together Tour pulls together some of classic rock fans favorite groups for a concert packed with memorable hits. This year the tour features The Turtles, The Association, The Grass Roots, Mark Lindsay – the former lead singer of Paul Revere & The Raiders, The Buckinghams, The Cowsills.
Spandau Ballet / DJ Richard Blade
Wednesday, July 29, 7:30 p.m. Tickets start at $32.50.
In the 1980s, British band Spandau Ballet offered electrifying music that had new wave fans dancing around the world. After a 20-year hiatus, the band has reconnecting to offer fans a trip back in time with their classic hits including "True," "Round and Round" and "I'll Fly For You." Los Angeles radio, television and film personality DJ Richard Blade has been spinning top 80s hits since landing in the U.S. from England in 1982 on MTV, VH1, KROQ, Sirius Satellite Radio and Star 98.7.
The Offspring / The Interrupters
Thursday, July 30, 7:30 p.m. Tickets start at $39.50.
The Offspring has performed more than 1,100 shows around the world, offering fans rock anthems "Self Esteem" and "Come Out And Play (Keep 'Em Separated)." The Interrupters, an L.A.-based punk/ska band, features vocalist Aimee Interrupter, guitarist Kevin Bivona, bassist Justin Bivona, and drummer Jesse Bivona. Their self-titled debut album for Hellcat/Epitaph Records offers songs including "Take Back the Power," "Easy on You" and "Last Call."
Three Dog Night / Jefferson Starship
Friday, July 31, 7:30 p.m. Tickets start at $17.50.
Grammy-nominated Three Dog Night has been offering classic rock hits since 1969 including "One", "Easy to Be Hard", "Joy to the World" and "Mama Told Me Not To Come." Jefferson Starship took off in 1971 after Jefferson Airplane band member Paul Kantner made a solo debut. Jefferson Starship earned fans with hits like "Jane", "Find Your Way Back" and "Save Your Love." During their July 31 performance, they will also celebrate the 50th anniversary of Jefferson Airplane & The San Francisco Sound.
The Fab Four / Wings Band
Saturday, August 1, 8 p.m. Tickets start at $17.50.
The Fab Four keeps the spirit and sound of the iconic band alive with an incredible stage show with costume changes and all the energy fans from any generation adores about The Beatles. The Wings Band offers a tribute to the best of Paul McCartney & Wings greatest hits. Wings was a band Paul & his late wife Linda formed in 1971 with drummer Denny Seiwell and Moody Blues guitarist Denny Laine. These bands will perform in historical chronology with The Fab Four performing first.
Huey Lewis and The News
Sunday, August 2, 8:15 p.m. Tickets start at $19.50.
After more than 36 years of performing together and earning multiple awards, Huey Lewis & The News still stands as one of America's greatest rock 'n' roll bands with hits like "The Power of Love," "Do You Believe In Love" and "If This Is  It."
Juanes
Wednesday, August 5, 8:15 p.m. Tickets start at $32.50.
Juanes is a Grammy award-winning Colombian musician and singer-songwriter, who released his solo debut album Fijate Bien in 2000 and since then has gained international recognition. His latest single, "Juntos (Together)," was used as the end title track for Disney's "MacFarland, USA."
Pat Benatar & Neil Giraldo – 35th Anniversary / Dennis DeYoung: The Music of Styx
Saturday, August 6, 7 p.m. Tickets start at $31.50.
Powerhouse duo and rock 'n' roll legends Pat Benatar and Neil Giraldo bring their undeniable chemistry and unprecedented sound to the Pacific Amphitheatre as they celebrate 35 years together. Dennis DeYoung is a founding member of the rock group Styx and continues the band's legacy by performing the hits that gained them fans around the world.
Echo & The Bunnymen / Berlin
Friday, August 7, 7:45 p.m. Tickets start at $23.50.
Echo & The Bunnymen is an English post-punk band formed in Liverpool in 1978, whose music has earned them success on several UK music charts. They are known for songs like "Rescue," "The Puppet" and "Over the Wall." Led by the iconic vocals of Terri Nunn, Los Angeles-based Berlin has been called the "Greatest Synth Electro-Pop Band of All Time," with hits like "Take My Breath Away" and "Metro."
Fifth Harmony / Debby Ryan & The Never Ending / Bea Miller / Natalie La Rose
Thursday, August 8, 7 p.m. Tickets start at $24.50.
The all-girl Fifth Harmony began their individual stardoms on the hit TV show "The X-Factor," where music industry buff Simon Cowell joined the five talented singers in 2013. Singer, songwriter, musician, actress and philanthropist Debby Ryan is multi-talented offering music lovers a jazz and country pop blended with alternative rock sound. Singer, songwriter and actress Bea Miller first was discovered after landing in 9th place on the second season of "The X Factor." Amsterdam-native Natalie La Rose skyrocketed to the top of pop music with her hit single "Somebody."
Dirty Heads & Magic!
Sunday, August 9, 7 p.m. Tickets start at $29.50.
Since their breakout album "Any Port in the Storm" in 2008, the Dirty Heads have been offering music fans their fusion of hip-hop, reggae and alternative around the world. Los Angeles native Magic! burst on the music scene in 2013 as a brainchild of Grammy Award-winning songwriter and producer Nasri offering reggae-pop sounds that are designed to put listeners in a good mood to have a good time.
Deep Purple / Foghat
Wednesday, August 12, 7:15 p.m. Tickets start at $22.50.
English rock band Deep Purple was originally formed in 1968 as a progressive rock band and over the years has been influential in the growth of heavy metal and modern hard rock. Foghat was formed in the early 1970s and since then has offered classic rock fans hits like "I Just Want to Make Love to You," "Slow Ride" and "Stone Blue."
Chris Young / Danielle Bradbery
Thursday, August 13, 7:30 p.m. Tickets start at $34.50.
Grammy-nominated Chris Young offers a dynamic live country performance with a classic baritone voice and melt-your-heart ballads like "Lighters In the Air" and "You're Gonna Love Me." Since winning the fourth season of NBC's "The Voice," Danielle Bradbery has been winning country music fans with her sweet, soulful sound in hits like "The Heart of Dixie" and "Young in America."
The B-52s / The English Beat
Friday, August 14, 7 p.m. Tickets start at $29.50.
Known as "The World's Greatest Party Band," The B-52s has been offering dance-rock tunes for more than 35 years with hits like "Rock Lobster," "Love Shack" and "Summer of Love." Known in England as simply "The Beat," The English Beat is a ska revival band founded in England in 1978. The English Beat returns to the OC Fair for a fourth year in a row with its fusion of ska, pop, soul, reggae and punk rock.
Steel Pulse / The Wailers
Saturday, August 15, 7 p.m. Tickets start at $22.50.
Grammy award-winning Steel Pulse has been offering reggae music fans solid music of love and justice for more than 35 years with songs like "Your House" and "Steppin' Out." The Wailers are a legendary Jamaican band that performed with Bob Marley promoting peace, love and equality through reggae and Rastafari music since 1969 and are best known for hits like "One Love," "Stir It Up" and "Soul Rebel."
Austin Mahone / Kalin and Myles
Sunday, August 16, 7:30 p.m. Tickets start at $32.50.
Teen sensation Austin Mahone has been climbing the charts since he burst onto the scene just a few short years ago. Since then he has earned his own legion of loyal fans, known as "Mahomies," with hits like "What About Love" and "Banga! Banga!"  Bay Area rappers Kalin White & Miles Parrish debuted on the R&B and hip-hop scene in 2011 with an upload of their original song and music video "More Than Friends." They are also known for their hit "Summertime Love" and their first album release in 2012, "Chasing Dreams."