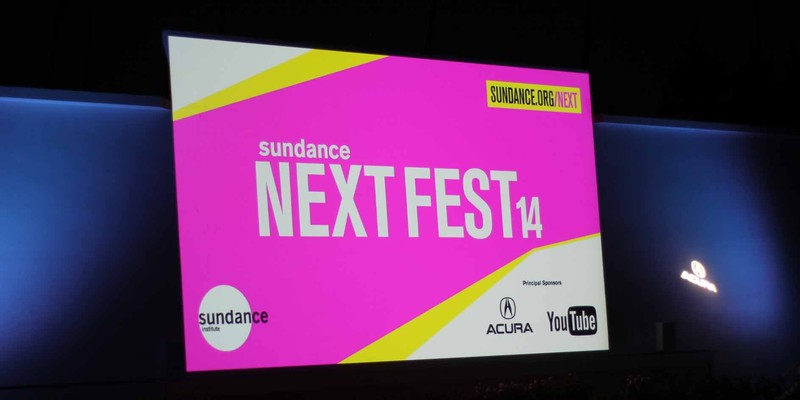 Sundance NEXT FEST returns to The Theatre at Ace Hotel Downtown Los Angeles August 7-9 for a weekend celebration of the renegade spirit of independent artists. The film and music program, announced today, features some of the most talented filmmakers and music acts on the verge of breaking out. Tickets ($15-25) are now on sale to everyone sundance.org/next.
Sundance NEXT FEST will present the Los Angeles premieres of six films from the 2015 Sundance Film Festival in Park City, Utah. Five films screen at the Theatre at Ace Hotel, paired with either a special music performance that embodies a shared artistic sensibility or with a special conversation between the filmmakers and the luminaries who inspired them and who will be announced later this summer. Last year's special guests included Werner Herzog, writer Bret Easton Ellis and filmmaker Nicolas Winding Refn. The Sundance Film Festival programming staff selected the films and music acts for NEXT FEST.
On August 2, the weekend before the festival, things kick off with the Los Angeles premiere of Cop Car with Cinespia at the Hollywood Forever Cemetery. In Cop Car, Kevin Bacon plays a small-town Sheriff setting out to find the boys who have taken his car on a dangerous joyride. The outdoor screening under the stars will feature food trucks and a themed Cinespia Photo Booth. All ticket proceeds go to the non-profit Sundance Institute.
John Cooper, Director of the Sundance Film Festival, said, "Los Angeles is home to a huge audience of people on the cutting edge of what's new and next in film and music. Our Sundance NEXT FEST was born as an experiment to showcase this and offer LA audiences a slice of Sundance in the summer."
Members who support the non-profit Sundance Institute have access to a host of benefits related to Sundance NEXT FEST, including the ability to purchase tickets today, before they go on sale to the general public tomorrow. At the August 2 Cop Car screening with Cinespia at the Hollywood Forever Cemetery, members will enjoy a reserved seating section and other benefits while supporting the Institute's mission of connecting artists with audiences. Members are also invited to a special party during Sundance NEXT FEST and are eligible to win a prize package including a three-night stay at the Ace Hotel plus airfare. To join, visit sundance.org/membership.