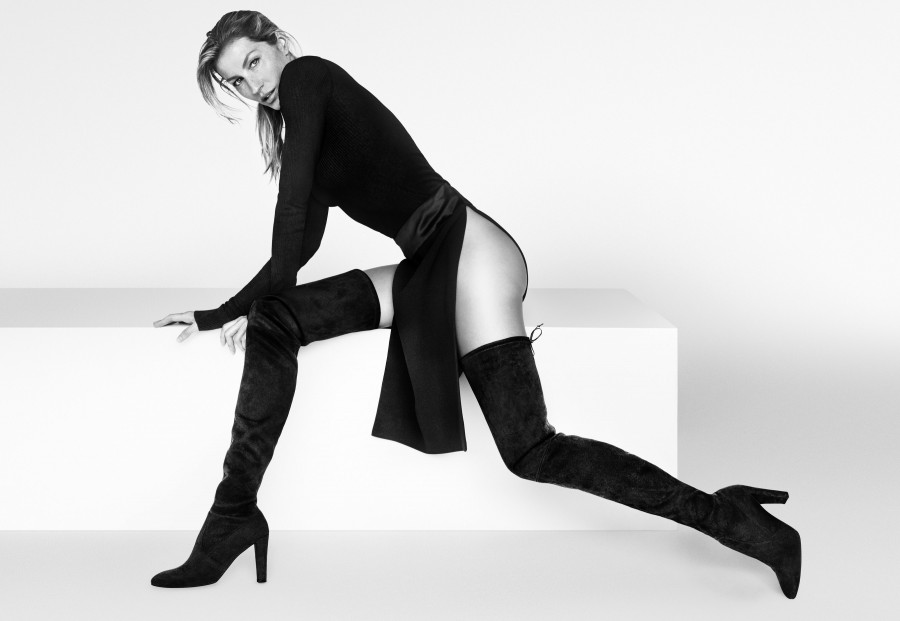 Stuart Weitzman's Fall 2015 advertising campaign featuring Gisele Bundchen is all about the legs, with its extreme thigh-high stocking boot taking center stage. Shot by renowned fashion photographer Mario Testino, the black-and-white ads embrace a distinctively minimalist aesthetic.
Worn seductively by Gisele, the ALLLEGS boot hugs the supermodel's legs, showcasing the extreme thigh-high's sleek, form-fitting silhouette and unique 28-inch length. Chic to the core, the ALLLEGS is a stylishly dramatic addition to the brand's iconic stretch suede thigh-high boots with drawstring closure. The ALLLEGS is available for pre-order on www.stuartweitzman.com and at Stuart Weitzman retail stores nationwide.
"I could not have picked a better pair of legs than Gisele's to show off such a sexy boot. She defines the term ALLEGS, and inspired its name," said designer Stuart Weitzman.
Gisele, who debuted as the face of the Stuart Weitzman brand in the Fall 2014 advertising campaign, was chosen because of her international fashion icon status and her unique ability to personify the multi-facets of the Stuart Weitzman woman, from fashion-forward trendsetter to sophisticated tomboy to multi-tasking mom to the quintessential girl-next-door. With her lithe physique, bronzed skin and tousled golden locks, Gisele personifies the confidence, empowerment, beauty and ease women feel the moment they slip into their Stuart Weitzman shoes.
In the world of Stuart Weitzman, "sexy" means being comfortable and confident in your own skin, and the campaign captures this essence in an effortlessly chic way while clearly showcasing the new season's essential silhouettes. The international advertising campaign will launch in the United States, Italy, France, England, Dubai, Germany, Spain and Asia. Outdoor advertising (billboards and kiosks) will run in Los Angeles, New York, Milan, Paris and Hong Kong. A behind-the-scenes video and additional creative content will be featured on www.stuartweitzman.com and in Stuart Weitzman boutiques worldwide.