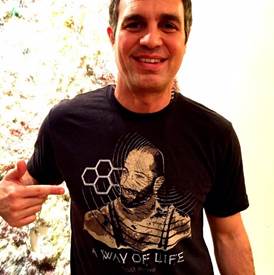 Mark Ruffalo in Rudis apparel
Rudis lifestyle apparel has partnered with Nancy Schultz, widow of legendary global wrestling icon, Dave Schultz. Schultz's life and death were recently the focus of the Oscar nominated biopic film, Foxcatcher, starring Channing Tatum, Mark Ruffalo and Steve Carrell.
The Rudis brand busted on the scene in 2013, reaching new heights earlier this year by grabbing the exclusive rights to the slain superstar, Dave Schultz. Now such stars and legends as actor, Mark Ruffalo, MMA hero, Chael Sonnen and Super Bowl Champ, Stephen Neal can be seen sporting the new trendy line.
Co-Founder & President, Jesse Leng, is excited about the partnership; "Rudis was founded with a mission to build a brand that speaks to the needs and demands of supremely committed athletes, most notably wrestlers. We feel the life of Dave Schultz is the perfect illustration of our brand message. Nancy's true passion for the sport and connection to wrestling on a global scale make her a tremendous asset and valued addition to our team. Dave and Nancy Schultz are what Rudis is all about."
Nancy touches on the parallels between the ethos of Rudis and how Dave lived his life; "Dave Schultz was a great man  and a mighty warrior. The Rudis brand shares the philosophy that pursuing greatness is a Way Of Life. I am excited and dedicated to work with the Rudis Team to honor the memory of Dave Schultz. I look forward to helping grow this company for many years to come."
Rudis Co-founder Tommy Rowlands, a 2X NCAA Champion, created the company so wrestlers had a brand they could call their own. "The most authentic athletes in the world need an outlet for individual expression. We aspire to be the brand for the greatest athletes in the world. Dave Schultz embodies our philosophy that pursuing greatness is a Way of Life."
All Rudis apparel & accessories, as well as the Dave Schultz™ signature series, will be available exclusively at www.therudis.com and select re-sellers.