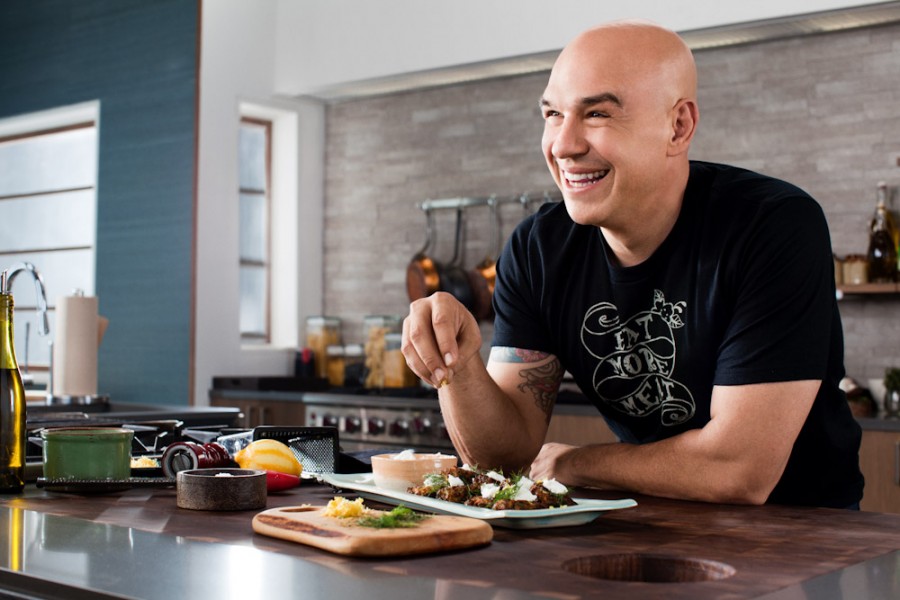 Michael Symon is taking a summer road trip to taste the best of American classics in Burgers, Brew & 'Que, premiering Friday, July 17th at 10:30pm ET/PT on Food Network.
Whether it is mouth-watering, mile-high cheeseburgers or slow smoked, fall-off-the-bone ribs, Michael is going to eat and meet his way through some of the best All-American spots to get your grub on. And what better way to wash it all down than with local beers and brews, sure to make any meal perfect!
Over six episodes Michael visits some of the most well-known establishments to experience the unique and best Burgers, Brew & 'Que. In Nashville, Michael visits a new burger joint that encourages you to construct your own custom creations. And while in the Music City, the local tradition is hot chicken, which has Michael pushing his personal limits to find out just how much spicy chicken he can take. In New York City, special guest Bobby Flay joins Michael as they visit an over-the-top BBQ joint for a Brontosaurus Beef Rib. Mario Batali also joins Michael as they try one of his favorite late-night indulgences at New York City's most classic burger joint. And family friend and fellow chef, Alex Guarnaschelli, joins Michael at one of his favorite Manhattan spots, where they combine a bottomless beer selection with high-octane hot dogs.
And no trip would be complete without Michael traveling to his own backyard in Northeast Ohio, where a former NFL star's top secret ribs de-boning process was inspired by his wife who doesn't like getting messy. In Cleveland, Michael tackles the mother of all burgers – the Brunch Burger, topped with massive onion rings and an over easy egg. And a visit to a newcomer has Michael pushing the boundaries of pub food and house-made brews.
Chef Michael Symon cooks with soul. Growing up in a Greek and Sicilian family, the Cleveland native creates boldly flavored, deeply satisfying dishes at his award winning restaurants Lola, Lolita, Roast, Bar Symon, B Spot and the forthcoming Mabel's BBQ. Symon also shares his exuberant, approachable cooking style with viewers, most recently on Food Network's All-Star Academy, Iron Chef America and as a co-host on ABC's The Chew. He is the author of three cookbooks, "Michael Symon's Live to Cook – Recipes and Techniques to Rock Your Kitchen," "Carnivore," and "5 in 5."
www.FoodNetwork.com/BurgersBrewQue