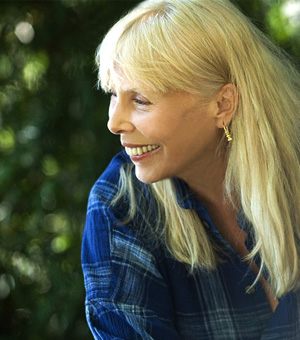 Singer-songwriter Joni Mitchell suffered a brain aneurysm, according to her longtime friend David Crosby.
On Friday, Crosby told the Huffington Post that Mitchell suffered from an aneurysm when she was hospitalized in late May.
He said, "Nobody found her for a while. She took a terrible hit. To my knowledge she is not speaking yet…She's going to have to struggle back from it the way you struggle back from a traumatic brain injury…She's a tough girl, and very smart. So, how much she's going to come back and when, I don't know and I'm not going to guess."
With little information circulating regarding Mitchell's health, her friends have taken to www.jonimitchell.com to update fans on the singer's condition.

In April, Mitchell's close friend, Leslie Morris issued the following statement: "Contrary to rumors circulating on the Internet today, Joni is not in a coma. Joni is still in the hospital – but she comprehends, she's alert, and she has her full senses. A full recovery is expected. The document obtained by a certain media outlet simply gives her longtime friend Leslie Morris the authority – in the absence of 24-hour doctor care – to make care decisions for Joni once she leaves the hospital. As we all know, Joni is a strong-willed woman and is nowhere near giving up the fight. Please continue to keep Joni in your thoughts."