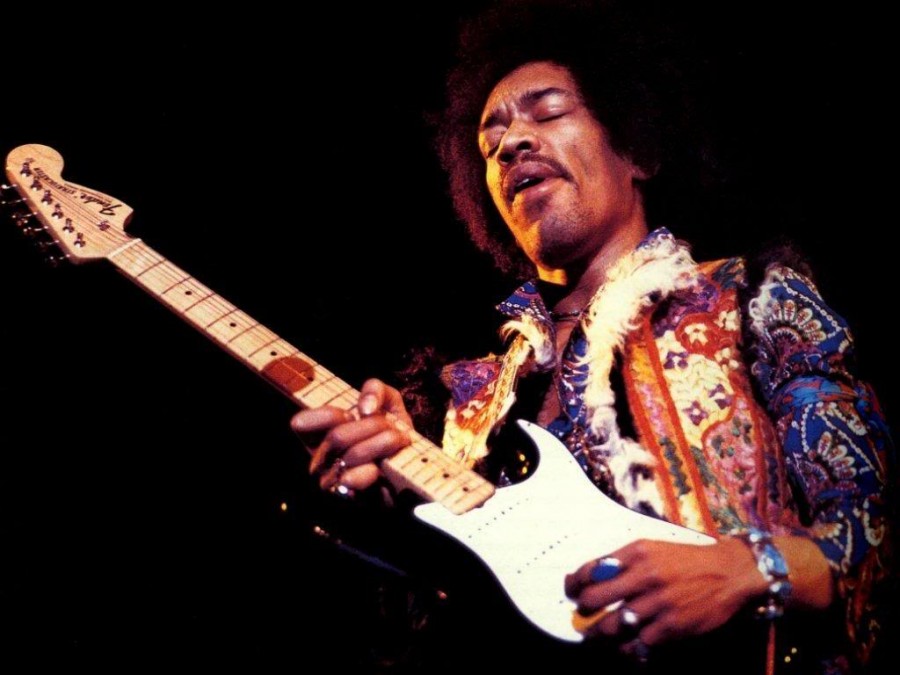 The GRAMMY Museum will hold an exclusive showing of Jimi Hendrix's treasured 1966 Fender Stratocaster and John Lennon's lost Gibson J-160E before both guitars are put up for auction by Julien's Auctions. Hendrix's guitar is currently on display on the Museum's third floor, where it will remain through February 2016. Lennon's guitar will arrive July 2nd.
Jimi Hendrix's 1966 Fender Stratocaster
Hendrix played his 1966 black, rosewood fret board Fender Stratocaster at the Monterey International Pop Music Festival, held June 18, 1967, at the county fairgrounds in Monterey, CA. Recommended to festival organizers by Paul McCartney, the Jimi Hendrix Experience performed eight songs, with Hendrix wielding his Stratocaster, before switching to his less-treasured white Stratocaster, which he then famously burned and smashed during the group's ninth and final number, "Wild Thing."
John Lennon's Gibson J-160E
Lennon purchased his electric-acoustic Gibson J-160E in 1962 from Rushworth's Music House in Liverpool soon after The Beatles signed their first recording contract with Parlophone Records. George Harrison bought a similar Gibson J-160E guitar the same day Lennon made his purchase. Some of The Beatles' biggest hits such as  "She Loves You," "I Want to Hold Your Hand," "Please, Please, Me,"  "All My Loving," "From Me to You," and "This Boy" were written on this guitar. Because the guitars were identical, they were often switched, and neither Lennon nor Harrison noticed or minded. After a December 1963 concert at Finsbury Park, Lennon noticed that his Gibson was missing. It remained missing for 51 years. In 2014, John McCaw, of California, noticed in Andy Babiuk's Beatles Gear book that the serial number for Harrison's Gibson guitar was close to the one he owned. McCaw had bought the used guitar from a friend in Southern California in the late '60s after serving in the military in Vietnam. First, experts were able to match the wood grain to photos of Lennon playing guitar. After further research, it was determined the serial number on the guitar matched Gibson's shipping records. There is no record of how the guitar ended up in California.
Lennon's Gibson will be offered at Julien's Auctions Icons & Idols: Rock "n"  Roll Auction event on Friday, November 6, 2015 and Saturday, November 7, 2015, where it is expected to fetch between $600,000 and $800,000. A percentage of proceeds from the sale of the guitar will go to The Spirit Foundation, a non-profit organization founded by Lennon and Yoko Ono. Prior to the auction, the guitar will be on display in the Ladies and Gentlemen…The Beatles! exhibition at the LBJ Presidential Library in Austin, Texas, from June 13–29.
Hendrix's Fender Stratocaster will be put up for auction by Julien's Auctions at their annual Music Icons Auction at The Hard Rock Cafe New York in May 2016.