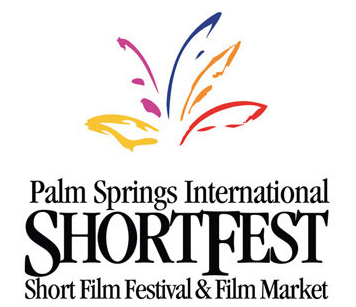 It's time to put on your shorts for the 2015 Palm Springs International ShortFest & Short Film Market. Now in its 21st year, ShortFest will showcase 330 films including 77 World Premieres, 65 North American Premieres and 19 U.S. Premieres. The selection of films for screening and competition features star-studded casts and award-winning films from 51 countries around the world. 
There are 54 thematically curated programs, which will screen June 16-22, at the Camelot Theatres in Palm Springs.  More than 3,000 of the festival submissions are available in the Film Market for industry attendees to view.  The complete line-up will be posted on www.psfilmfest.org on June 7 with the online box office launch on June 9.
World Premieres:
2084 (USA), Taz Goldstein
The Age of Insecurity: Little Men (USA), Adriano Valentini
The Age of Insecurity: Unshakeable (USA), Adriano Valentini
Almost Not Beautiful (USA), Sarah Jean Kruchowski
Amy (USA), Jacob Chase
The Aquarium (Australia), Jacobie Gray
Ballon (South Korea), Sang-eun HAN, SI Dong-joo, LEE Yu-jin
Basilisk (United Kingdom), Nikolai Hamel
Billy the Kid (United Kingdom), Sam Johnson
Bodies (United Kingdom/Ireland), B Welby-Delimere
The Brief, Existential Crisis of a Young Underwear Model (USA), Brett Checkelsky, Drew Checkelsky
Brothers (United Kingdom), Thordur Palsson
Chisel (Philippines/USA), Rebecca Kahn
Chop (USA), Conner Bell
Coming Together for One Night Only (USA), Marc Saltarelli
Copetin (Argentina/Spain), Ernesto Kullock
The Cycle (USA), Michael Marantz, Justin Salerian, Ted Schaeffer
Dániel (United Kingdom), Dean Loxton
Death In Bloom (Australia/USA), Dael Oates
Distance (USA), Anson Fogel, Alexandra Fuller
Duke Riley Goes to China (USA/China), Kim A. Snyder
Duo (France), Claudia Bottino
The Friend from Tel Aviv (USA), Federica Gianni
Future Dust (USA), Matthew Gudernatch
Going Down (Australia), James Vinson
A Grand Ole Opry (Scotland), Michael J Welsh
The Great Zoo of Mr. Vanel (France), Bérenger Thouin
The Grill Man (Brazil), Fabio Basso Montanari
Harvey's Dream (Australia), Alexander von Hofmann
Heartbreak and Beauty (Australia), Genevieve Clay-Smith, Libby Banks, Nathan Basha, Robin Bryan
Homewrecker (USA), Gabe Hohreiter
H Positive (United Kingdom/Spain), Glenn Paton
Identity Theft (USA), Carlos Lopez Estrada
I Follow You (Sweden), Jonatan Etzler
Ignostech (USA), Dan Harnden
Into the Surf (United Kingdom), Tom Evans
I Strongly Suggest (New Zealand), Gregory Bennett
Joseph's Reel (United Kingdom), Michael Lavers
Kapunka (Israel), Tal Greenberg
Lila & Valentin (France), Adrien Lhommedieu
The Listener (United Kingdom), Michael Gilhooly
Louis (France), Stéphanie Doncker
Lulu (USA), Shawn Snyder
Manchego (United Kingdom), Alex Kendall
The Man from the Council (United Kingdom), Barnaby Southcombe
Marta Rosa (USA/Mexico), Barbara Cigarroa
Minimum Wage (USA), Joey Ally
Mini Supreme (USA), Michael Phillis
Miss Famous (USA), Shadae Lamar Smith
Miss Zahra (Finland), Markus Lehmusruusu
Mrs. K (South Korea), Dongneok Seo
Nightlight (Switzerland/Canada), Samuel Flueckiger
Nowhere Line: Voices from Manus Island (Australia/UK), Lukas Schrank
Off Track (USA/Brazil), JP Jacobsen
The Pitch (United Kingdom), John Hardwick
Pool (Canada), Clayton Holmes
Providence (USA), Michael Abbott, Jr.
Recently, Long Ago (USA), Daniel Elihu Kramer
Red Rider (USA), Sam Davis
Relapse (USA), Rosie Haber
Restoration (New Zealand), Tim Tsiklauri
RPG (USA), Sadie Rogers
The Scarecrow (USA), Phillip Rhys
Setting Them Straight (Australia), Kaleb McKenna
Silent Night (Australia), Nastassja Djalog
Silver Waters (United Kingdom), Andrew Keresztes
Skinless (Norway), Marius Myrmel
Submarine (Brazil), Rafael Aidar
Tether (Guatemala/USA), Eve Symington
Touch (USA), Lulu Wang
The Trail (Germany), Elke Brugger
Twin Visions (USA), Louise Salter, Gavin Bowden
The Weight of Blood & Bones (USA), Christopher Ekstein
You Are Whole (United Kingdom), Laura Spini
You're Breaking Up (USA), Mandy Fabian
Zelos (USA/Iceland), Thoranna Sigurdardottir
North American Premieres:
3 Year 3 Month Retreat (Bhutan), Dechen Roder
411 (USA), Oliver Power
90 Degrees North (Germany), Detsky Graffam
Alliance of the Depths (Israel), Aryeh Hasfari
Another Green World (United Kingdom), Christina Hardinge
Ave Maria (Palestine/France, Germany), Basil Khalil
Between (Switzerland), Flo Linus Baumann
Between Trees (Australia), Jayden Stevens
Big Up (France), Julie-Anne Roth
Bite the Bullet (Netherlands), Iman de Vries
The Boiling Point (Sweden), Markus Waltå
Boy Meets a Stranger (South Korea), Da-hye LEE
Boy-Razor (Sweden), Peter Pontikis
Bright Black (Slovenia), Rene Maurin
Buddy (Belgium), Jan Roosens, Raf Roosens
Carry On (Austria), Rafael Haider
Chronicles of Courage (United Kingdom), Ernest Mills
Criticism (Australia), Ryder Grindle
Dropping Off Michael (United Kingdom), Zam Salim
Edmond (United Kingdom), Nina Gantz
Escalator (Norway), Christopher Nielsen
Estela (Cuba), Joacenith Vargas
Execution (Hungary/Romania), Petra Szőcs
Exit Right (Austria), Bernhard Wenger, Rupert Höller
Fernweh (Netherlands), Ena Sendijarevic
Flat Daddy (Australia), Matt Holcomb
The Forgiven (China/France), François Chang
Gayby (Australia), Anya Beyersdorf
Gift Of My Father (Iraq/UK, Netherlands, USA), Salam Salman
A Good Feeling (France), Benoit Rambourg
The Good Life – Over There (Norway), Izer Aliu
Hassan in Wonderland (Iraq/Italy), Ali Kareem
He and She (Germany), Marco Gadge
A Hole in My Heart (Netherlands), Mees Peijnenburg
Jachalay (Greece), Manos Gerogiannis, Yannis Zoumakis
The Jacket (Austria), Patrick Vollrath
Last Door South (Belgium), Sacha Feiner
Last Night In Edinburgh (Scotland/UK), Bita Shafipour
Linda's List (New Zealand), Angela Bloomfield, Kate McDermott
The Little Death (Norway), Simon Tillaas
Love is Blind (United Kingdom), Dan Hodgson
Meeting Jenny (USA), Tammy-Anne Fortuin
The Morrigan (Ireland/UK), Colum Eastwood
Nineteen (Australia), Madeline Kelly
The Orchestra (Australia), Mikey Hill
Patriot (United Kingdom), Eva Riley
Pebbles at Your Door (Denmark), Vibeke Bryld
Pink (Australia), Lynne Vincent McCarthy
Pink Boy (USA), Eric Rockey
Prayers at Dawn (Turkey/USA), Pinar Yorgancioglu
Pull (Australia), Christopher Stollery
Rangan 99 (Iran), Tiyam Yabandeh
Reality + (France), Coralie Fargeat
Replika (Switzerland/France), Luc Walpoth
The Sea Was Calm (Uruguay), Pablo Schulkin
Semblance (USA), Bill Whirity
Sowol Road (South Korea), Jong-hun SHIN
Subordinate (France), Clara Leac
The Summer of ABC Burns (Australia), Dannika Horvat
Three Dalmatians (Norway), Ingrid Stenersen
Times of Competition (Brazil), Toti Loureiro, Ruy Prado
Void (Denmark), Milad Alami, Aygul Bakanova
We will stay in touch about it (Germany), Jan Zabeil
Year 7 (United Kingdom), Rob  Leggatt
Zero M2 (France), Matthieu Landour
United States Premieres:
After the End (United Kingdom), Sam Southward
August (Poland), Tomek Slesicki
Bernice (USA), Kristina Sorge
Class Trip (Sweden), Jonatan Etzler
Coach (France), Ben Adler
Crocodile (United Kingdom), Gaëlle Denis
Dead Air (United Kingdom), Robert Bradbrook
The Future Perfect (Canada), Nick Citton
The Garage (Canada), Patrick White
Hole (Australia), Tony Radevski
In the Shadow of the North (Canada), Raphaël Bélanger
Maurice (Canada), François Jaros
Morning is Broken (United Kingdom), Simon Anderson
Outlier (Germany), Martin Wallner
Over (United Kingdom), Jörn Threlfall
Paris on the Water (Israel), Hadas Ayalon
The Pig Child (United Kingdom), Lucy Campbell
The Tour Guide (Israel/Germany), Amos Geva
Whispers Among Wolves (Australia), Kevin Lim
Now in its fifth year, 13 films will screen in the ShortFest Online Film Festival. The select films are currently playing on a special section of the festival website (www.psfilmfest.org/onlinefest).  Onlinevoting for these films is now open and runs through June 20, with the "ShortFest Online Audience Award" announced at the Festival Award Ceremony on Closing Night.  The ShortFest OnlineFilm Festival will continue to play online through August 31.