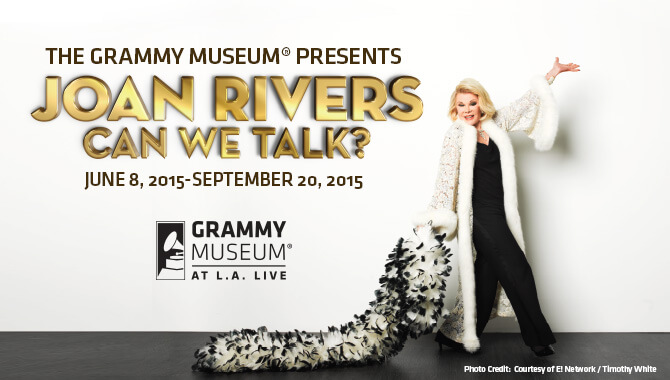 The GRAMMY Museum will commemorate GRAMMY-winning comedian Joan Rivers with a new display opening Monday, June 8, 2015 on the Museum's third floor.
The exhibit, called:Joan Rivers: Can We Talk? will include:
Various stage costumes worn by the comedian, including several Bob Mackie originals
One of her vintage Louis Vuitton travel trunks
Family photographs
Her 1984 Harvard Hasty Pudding Woman of the Year Award
Rivers' hardcover book collection, including several of her New York Times bestsellers
Gold record award for her 1983 classic comedy album, What Becomes A Semi-Legend Most
And Rivers' Hollywood Walk of Fame Star award
"Earlier this year, The Recording Academy awarded my mother her very first GRAMMY, which was truly an honor. On this occasion, which celebrates her 82nd birthday, it's also an honor to have her incredible legacy included in the GRAMMY Museum's ongoing tribute to the greatest comedic icons of all time," said Melissa Rivers, Joan Rivers' daughter. "To her, comedy was music. There was a rhythm, but instead of notes, there were words. And just like any of her fellow GRAMMY Award winners who have been on exhibition in the museum, you know she loved to play."
"Joan Rivers' unapologetic one-liners and brave, biting commentary on her personal life opened doors for other female comedians," said Bob Santelli, Executive Director of the GRAMMY Museum. "With this latest display in our comedy series, we continue to spotlight some of the greatest comedic performers, many of whom have been recognized by the GRAMMY Awards."  
"My mother devoted her life and career to making the world laugh," continued Melissa Rivers. "And on behalf of my son Cooper and I, we want to thank our dedicated project producer Brian Edwards, Team Rivers, as well as the staff at the GRAMMY Museum for their support of this exhibit, which respectfully highlights my mother's amazing 50-year-plus career."
Joan Rivers: Can We Talk? will be on display on the GRAMMY Museum's third floor through Sept. 20, 2015.
The GRAMMY Museum is located at 800 West Olympic Boulevard, Suite A245, Los Angeles, CA 90015. With
an entrance off of Figueroa Street, the Museum resides within the L.A. LIVE district, at the intersection of
Olympic Boulevard and Figueroa Street in downtown Los Angeles.
For more info visit: http://www.grammymuseum.org