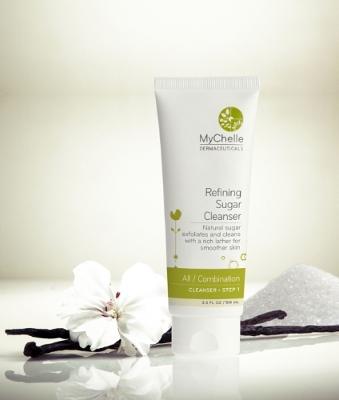 Yes, sugar! MyChelle's Refining Sugar Cleanser is an anti-aging, all natural facial cleanser which uses unrefined sugar to exfoliate, and a potent combination of peptides to cleanse, plump and firm all skin types. 
Facial cleansers are a key step in every skin care routine but few offer the multitasking benefits of the 3-in-1 Refining Sugar Cleanser. The creamy scrub can be used day and night without dehydrating or stripping skin of its natural oils
Unrefined sugar particles gently exfoliate the surface area, transforming into a foaming lather to remove dirt, oil and cosmetic residue. Anti-aging peptide Matrixyl® synthe'6™ and nutrient-rich Crocus Chrysanthus Bulb Plant Stem Cell help diminish fine lines and wrinkles.
The benefits:
Aids in acne prevention, minimizes skin imperfections and reduces pore size
Primes skin and enhances penetration of active ingredients
Won't scuff or abrade skin; use as a body scrub, shaving gel or to prep hands and feet for a mani/pedi
Available at www.mychelle.com and Whole Foods Market.
Price: $25 for 3.5 oz