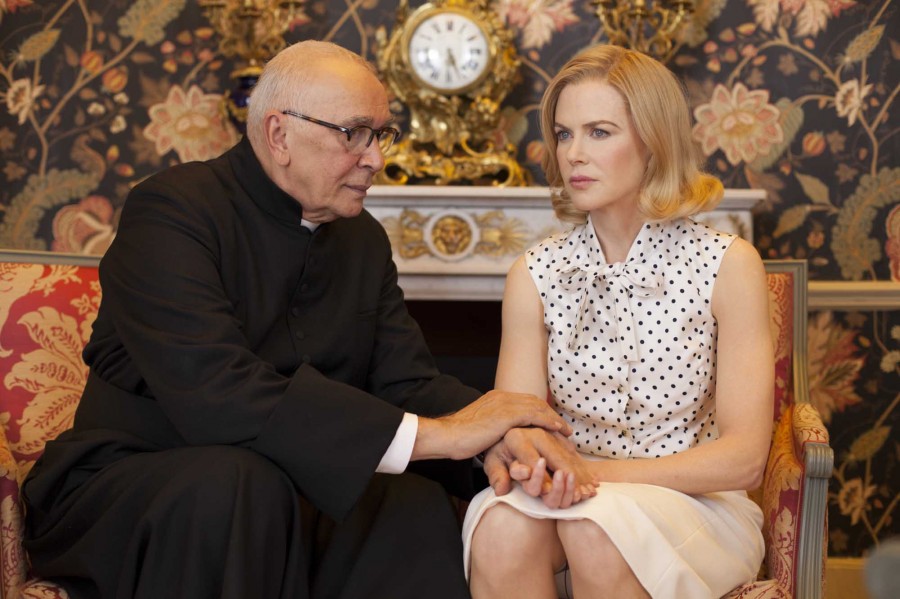 Photo by Courtesy of Lifetime Copyright 2015
Premiering on Lifetime on Monday, May 25, at 9pm ET/PT, Academy Award® and Golden Globe® Award-winning actress Nicole Kidman stars as Grace Kelly in Grace of Monaco, following the former Hollywood actress' life as the Princess of Monaco during a tenuous political dispute between her husband Prince Rainier III (Tim Roth) and France's Charles De Gaulle and her personal struggle to give up her career. 
The movie also stars Frank Langella (Frost/Nixon, Superman Returns) as Father Francis Tucker, a Catholic priest and Grace's confidante; Parker Posey (Louie, The Good Wife) as Madge, Grace's aide, and Paz Vega (Spanglish, Sex and Lucia) as opera singer Maria Callas.
Set in 1962, six years after her celebrated "wedding of the century," Grace of Monaco is an intimate snapshot of a year in the life of actress-turned-princess Grace Kelly as she reconciles her past as a Hollywood darling and her present as Prince Rainier III's wife.  Yearning for a return to her acting career, Grace finds herself plunged into a personal crisis to decide the fate of her marriage while her husband is at political odds with France's President Charles de Gaulle.  With a French invasion impending for Monaco, Grace must make the difficult decision whether to stand by the side of her husband and newfound country, or return to the bright lights of Hollywood.  
The acclaimed biography Grace of Monaco by Jeffrey Robinson offers an inside look at the sumptuous life of Princess Grace.  With unprecedented cooperation from her husband, Prince Rainier, and his children, Robinson reveals the bonds that held the family together even after Princess Grace's untimely death. This is the true story–both public and private–of a remarkable, Academy Award-winning actress who gave it all up to marry a prince and become the princess of Monaco.