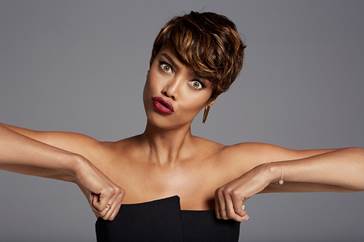 Tyra Banks will bring her signature edge and one-of-a-kind style to host THE 42ND ANNUAL DAYTIME EMMY® AWARDS, airing live on Pop on Sunday, April 26 at 8:00 PM, ET/5:00 PM, PT.
The awards, voted on by members of the National Academy of Television Arts & Sciences (NATAS), will be presented in a live televised ceremony honoring more than 350 nominees in daytime television.  
Tyra's connection to daytime television is exceptional – she won two Daytime Emmy® awards for "The Tyra Banks Show" and is scheduled to make her highly anticipated return to daytime television with "The FAB Life," a lifestyle chat show launching in the fall of 2015.
"As a network that celebrates talent and personalities who 'pop' in fan culture, we couldn't be more excited to have the multi-talented Tyra Banks as the host of THE 42ND ANNUAL DAYTIME EMMY AWARDS," said Paul Adler, Senior Vice President, Original Programming and Development, Pop. "We know she will bring her fun, charismatic energy to the Daytime Emmy Awards ceremony, which promises to be an entertaining show honoring the most notable achievements in daytime television."
"With Tyra Banks as our host, all the pieces are falling into place for what I believe will be a truly memorable night on the legendary Warner Bros. Studios lot," said, Bob Mauro, President, NATAS. "The fans on the red carpet on New York Street will have not only the multi-versatile Tyra Banks and some of the most beautiful and talented daytime stars to cheer, they will also have one of television's most beloved performers, Betty White, as she's honored for her extraordinary career. Somebody pinch me!"
"Are you ready to get your Smize on?" exclaimed Tyra. "I'm honored to be hosting the Daytime Emmy Awards and can't wait to bring a fresh edge and lots of surprises to the show. It's a big year! I'm shaking things up, starting with a new look and a brand-new daytime talk show launching in the fall. I'm pumped to be partnering with a fun new network like Pop to celebrate daytime TV and the diehard fans that watch every day. Let's do this!"
Televised from the legendary Warner Bros. Studios lot on Stage 16, THE 42ND ANNUAL DAYTIME EMMY® AWARDS show on Pop will be executive produced by Michael Levitt of Michael Levitt Productions with Gary Tellalian and Mike Rothman also serving as executive producers.
The Daytime Emmy Awards recognize outstanding achievement in all fields of daytime television production and are presented to individuals and programs broadcast during the 2014 calendar year. THE 42ND ANNUAL DAYTIME EMMY AWARDS is a presentation of NATAS in cooperation with the Television Academy.
This year's Lifetime Achievement Award will go to the television icon Betty White. Ms. White will be joining an illustrious group of previous Lifetime Achievement honorees including, Oprah Winfrey, Barbara Walters, Merv Griffin, Dick Clark, Bob Barker, Phil Donahue, Regis Philbin, Alex Trebek and many others.