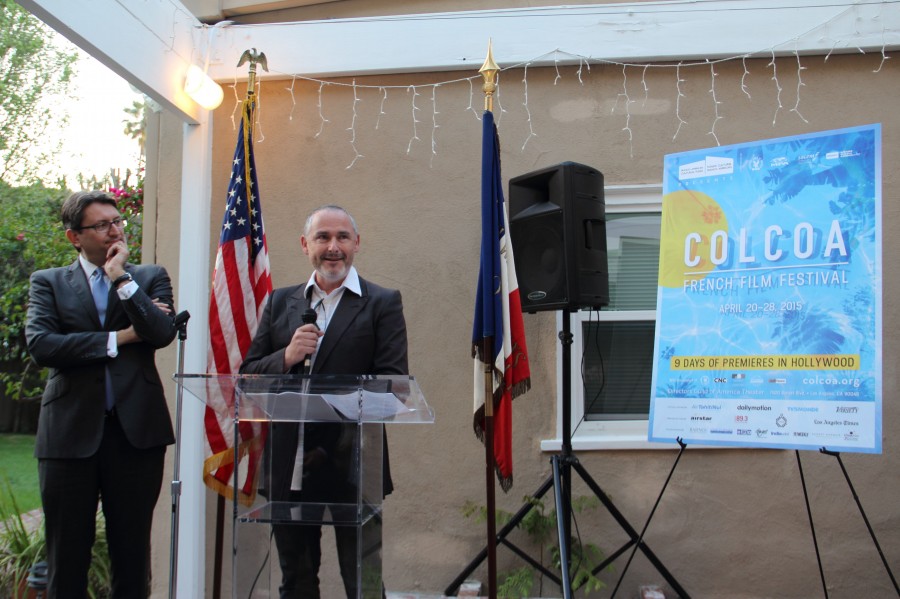 Photos by LATF USA – Axel CRUAU, French Consul General & François Truffart, COLCOA Executive Producer and Artistic Director
The Franco-American Cultural Fund announced the program for the 19th COLCOA FRENCH FILM FESTIVAL that will run April 20-28 at the Directors Guild of America in Los Angeles. Now a 9-day event, the festival will showcase a record of 68 films, including 3 World Premieres, 7 International Premieres, 14 North American or U.S. Premieres, 16 West Coast Premieres – and 20 new shorts. The largest French film festival in the world will introduce a new competition dedicated to films and series produced for television.
"We decided to initiate a mixed program of selections made for both cinema and television, one of the first in the United States, not only because of the evolution of the market, the industry and film viewers' habits, but also because American directors, writers and now distributors – who are an invaluable part of our audience – are involved in both fields," stated François Truffart, COLCOA Executive Producer and Artistic Director.
COLCOA will open with the North American Premiere of A Perfect Man, a thriller co-written by Yann Gozlan, Guillaume Lemans, and Grégoire Vigneron; directed by Yann Gozlan, it features rising stars Pierre Niney and Ana Girardot. 
The festival will close its competition on Monday, April 27th with the International Premiere of White Soldier, a drama written and directed by Erick Zonca, which will be part of the Television competition, and a still-secret feature announced the day of the opening (April 20th).
Three additional (North American) premieres, comprise the first COLCOA Television program, presented in association with TV France International and TITRATVS:  Blue Pills a TV drama, co-written by Charlotte Sanson & Jean-Philippe Amar and directed by Jean-Philippe Amar; Ponzi's Scheme, a dramatic comedy written and directed by Dante Desarthe; and, Danbé, Head Up, a drama co-written by Pierre Linhart and Bourlem Guerdjou, directed by Bourlem Guerdjou.
Additionally, three TV series will premiere at COLCOA: The North American Premiere of Chefs (Season 1), a drama co-developed and co-written by Arnaud Malherbe and Marion Festraëts and directed by Arnaud Malherbe; the U.S. Premiere of international hit Spiral (aka Engrenages) (Season 5), a thriller developed by Alexandra Clert and Guy-Patrick Sainderichin and co-written by Anne Landois and Simon Jablonka, and directed by Frederic Jardin; and, the International Premiere of the Western comedy Templeton (Season 1), developed and co-written by Daive Cohen, Pierre Cardonnel, François-David Cardonnel and Jonathan Cardonnel, directedby Stephen Cafiero.  The first two episodes of each series will be shown.
The feature film category includes 41 full-length features and documentaries and 20 shorts.  Several films will be shown immediately after or before their French release: the World Premiere of Blind Date, a romantic comedy, written and directed by actor Clovis Cornillac, opens in May in France; the International Premiere of Caprice, a romantic comedy from writer-director Emmanuel Mouret, will be shown three days after its French release; the International Premiere of The Tournament, the first feature written and directed by Elodie Namer, will be presented the week before the French opening.
Several established writer/directors are also featured: Jean Becker (Get Well Soon!), Jean-Paul Civeyrac (My Friend Victoria), Jérôme Cornuau (Chic!), Anne Fontaine (Gemma
Bovery –with Music Box Films), Academy Award winner Michel Hazanavicius (The Search), Academy Award winner Patrice Leconte (Do not Disturb), André Techiné (In The Name of My Daughter– with Cohen Media Group), Eric Toledano & Olivier Nakache (Samba – with Broad Green Pictures), and Academy Award winner Régis Wargnier (The Gate).
A significant portion of the program is dedicated to a new generation of talent, including writer/director Shirel Amitay (Atlit), David André (We Did it on a Song), César winner Thomas Cailley  (Love at First Fight – with Strand Releasing), Alix Delaporte (The Last Hammer Blow), Stéphane Demoustier (40-Love), Jeanne Herry (Number One Fan – with Distrib Films), Thomas Lilty (Hippocrates, The Diary of a French Doctor – with Distrib Films), Frank Ribière (Steak (R) Evolution – with Kino Lorber), Jean-Paul Rouve (Memories), 2013 COLCOA Audience Short Film Award winner Pascal Tessaud (Brooklyn), and Sabrina Van Tassel (Silenced Walls – with Distrib Films).
The concluding films of the World Cinema Produced by France Series screen April 22:  the U.S. Premiere of Still the Water, a French-Japanese co-production written and directed by Naomi Kawase, and the U.S. Premiere of the Cannes-acclaimed Silvered Water, Syria Self Portrait, written and directed by Ossama Mohammed and Wiam Simav Bedirxan.
Silvered Water will join five high profile documentaries running for the COLCOA Best Documentary Award, including the West Coast Premiere of Of Men and War, written and directed by Laurent Bécue-Renard, the first documentary to ever be presented in the large DGA theater. An homage to Charlie Hebdo's journalists will be made with a special presentation of Cartoonists, Foot Soldiers of Democracy, co-written by Radu Mihaileanu and Stéphanie Valloatto and directed by Stéphanie Valloatto.
COLCOA will celebrate the 10th anniversary of its Film Noir Series with the Academy Award winner Jean Dujardin's new film The Connection, co-written byAudrey Diwan and Cédric Jimenez and directed by Cédric Jimenez (with Drafthouse), SK1, co-written by Frédéric Tellier, David Oelhoffen, Patricia Tourancheau and directed by Frédéric Tellier (with Kino Lorber) and Next Time, I'll Aim For the Heart, written and directed by Cédric Anger.
Animation, an important part of the French film industry, joins the competition this year with the U.S. Premiere of the spectacular 108 Demon-Kings, writtenby Pascal Morelli and Jean Pêcheux and directed by Pascal Morelli.
All other series are back: the COLCOA Classics Series with an exclusive program of digitally restored Premieres, the After 10 Series (April 21-25); the Happy Hour Talk Panel Series in association with Variety (April 21-25); the French NeWave 2.0 Series presented in association with IndieWire (Saturday, April 25); the Short Film Competition (Sunday, April 26); the Focus on a Filmmaker (Michel Hazanavicius) (Thursday, April 23) and the Focus on Two Producers: Maxime Delauney and Romain Rousseau (Saturday, April 25).
In addition to Master classes, the COLCOA Educational Program, in association with ELMA (European Languages and Movies in America), will present to 2,200 American high school students, the West Coast Premiere of Once in a Lifetime, a drama co-written by Ahmed Drame and Marie-Castille Mention-Schaar, and directed by Marie-Castille Mention-Schaar.
For the 8th year, LAFCAwill partner for Cinema, the COLCOA Critics Awards. The complete recipients list of the 2015 Awards — including the U.S. distributor winner of the COLCOA Coming Soon Award, presented in association with KPCC — will be announced on Tuesday, April 28.
COLCOA FRENCH FILM FESTIVAL is funded by the Franco-American Cultural Fund, a partnership of the Directors Guild of America, the Motion Picture Association, France's Society of Authors, Composers and Publishers of Music, and the Writers Guild of America, West with the vital support of L'ARP (France's Association of Authors, Directors and Producers), the CNC, the Los Angeles Film and TV Office of the French Embassy, TV France International and Unifrance.
COLCOA FRENCH FILM FESTIVAL is sponsored by Air Tahiti Nui, Dailymotion.com, TV5MONDE, Variety (Official Sponsors); Airstar, KPCC 89.3, La Boîte, Los Angeles Times (Premier Sponsors); Barnes International Luxury Real Estate, Club Culinaire of Southern California, ELMA, Gayot.com, Indiewire, LA Weekly, Sunset Marquis, TITRA TVS (Major Sponsors); Alliance Française de Los Angeles, Bank of the West, Champagne de L'Argentaine, Cinando, France USA Media, Laemmle Theatres, Les Macarons Duverger, Marché du Film, Office de Tourisme Epernay, St-Germain, San Joaquin Valley Winegrowers Association, Under The Milky Way, Wine-Street.com (Platinum Sponsors); and Aridza Bross, French District, Graef Wines, Hollywood Blonde, Hollywood & Wine, LILA, Malibu Wine Safari, PATEL Napa Valley, Rosenthal The Malibu Estate, Tix (Supporting Sponsors).
Except for Of Men and War and 108 Demon-Kings, presented in English, all screenings are in French with English subtitles. Tickets are available for advance purchase online at www.colcoa.org until April 16 included, and onsite during the festival at the Directors Guild of America, 7920 Sunset Boulevard, Los Angeles CA 90046 (cash only). Please visit www.colcoa.org for box office hours. Ticket prices are $12 for adults; $9 tickets for seniors (62+), disabled, and members of American Cinematheque, ASC, ICG, Film Independent, Cine Family, SAG or Women in Film; $4 for students and under 21. Tickets are complimentary for DGA and WGAW guild members. Several screenings and events are free on a first come, first served basis with no reservation needed.