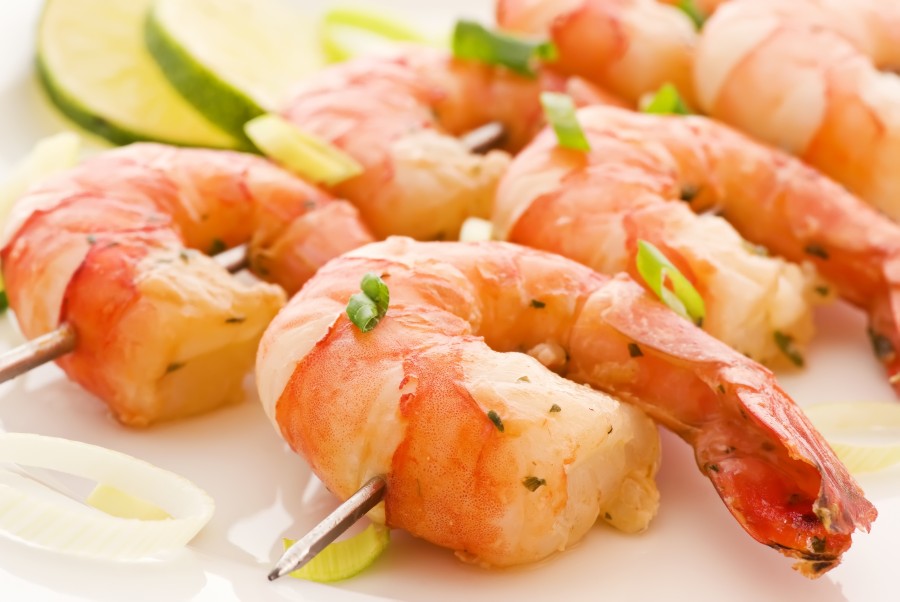 Did you know that shrimp is a great source of protein? A 3-ounce serving of shrimp (approximately 4 large shrimp) contains just 85 calories, while also packing in 20 grams of filling protein.
As temperatures rise and families everywhere dust off the patio furniture, The National Fisheries Institute (NFI) Shrimp Council encourages Americans to give burgers a break in favor of firing up the grill for the country's favorite seafood – sweet, succulent shrimp. Here's a great recipe from The NFI Shrimp Council.
Charcoal Grilled Shrimp
Number of Servings: 30 kebabs
What You Need:
2 pounds large shrimp in the shell
1/3 cup safflower oil
1/2 cup fresh lime juice
3 tablespoons dry white wine or vermouth
1 tablespoon minced shallots or green onions (white part only)
1 clove garlic minced
1 teaspoon salt
1 1/2 teaspoons minced fresh dill
Several dashes Tabasco sauce
What To Do:
Place shrimp in a shallow ceramic or glass baking dish. Combine remaining ingredients and pour over shrimp. Cover and chill several hours or overnight. Drain shrimp and reserve marinade. Thread on skewers or place in a wire grill basket. Grill shrimp over hot coals, turning and brushing with reserved marinade, until pink and cooked through, about 8-10 minutes. Serve with wooden picks. Peel and enjoy.