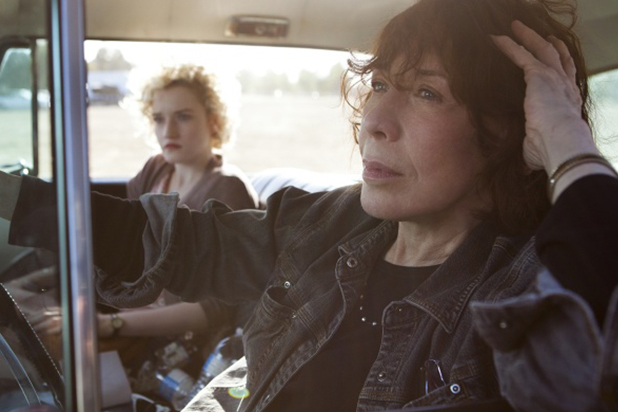 The Los Angeles Film Festival, produced by Film Independent with Presenting Media Sponsor the Los Angeles Times and Host Partner L.A. LIVE, announced that its Opening Night film will be the Los Angeles Premiere of Paul Weitz's Grandma. Starring Lily Tomlin, Julia Garner, Marcia Gay Harden, Judy Greer and Laverne Cox, Grandma is being released by Sony Pictures Classics.
Also announced today, Rodrigo García was named Guest Director of the Festival, Gale Anne Hurd will receive the Jaeger-LeCoultre Glory to the Filmmaker Award and Lily Tomlin will receive this year's Spirit of Independence Award. Film Independent also announced a pre-Festival gala event, LA Nights, a private art auction featuring the work of 2015 poster artist Noah Davis and over 40 artists, to be held at The Underground Museum on May 6. The works will be on display and open to the public May 7-21. Proceeds of the auction will go to support the Los Angeles Film Festival as well as the Underground Museum.
Guest Director Rodrigo García (Nine Lives, Mother and Child, Albert Nobbs and Last Days in the Desert) will attend the 14th annual Filmmaker Retreat at The Parker Palm Springs. A signature program of the Festival, the Retreat brings together all the feature directors in this year's Festival along with seasoned filmmakers who attend as honored artists. The Retreat is an opportunity to build community among the Festival's filmmakers before the Festival kicks off on June 10. Past Guest Directors of the Festival include Lisa Cholodenko, David O. Russell, Mira Nair, Kathryn Bigelow, George Lucas, William Friedkin, Sydney Pollack, Guillermo Del Toro and Alfonso Cuarón.
For the second year at the LA Film Fest, Principal Sponsor Jaeger-LeCoultre pays tribute to a filmmaker who has brought great innovation to contemporary cinema by awarding the Glory to the Filmmaker Award. This year's recipient is Gale Anne Hurd (The Terminator, Aliens, Armageddon, The Walking Dead). Known as the "First Lady of Sci-Fi," Gale Anne Hurd is the producer of Academy Award-winning films and Emmy-winning programs that shatter box office and ratings records. She will be honored at the Women Make It Happen Brunch during the Festival on Sunday, June 14. Last year's Glory to the Filmmaker recipient was Lisa Cholodenko.
Lily Tomlin (Nashville, Nine to Five, I Heart Huckabees) will be awarded the Spirit of Independence Award at the Opening Night screening of Grandma. The Spirit of Independence Award is given to individuals who advance the cause of independent film, champion creative freedom or make a significant contribution to the preservation and proliferation of independent voices. Tomlin is one of America's foremost comediennes and is the recipient of multiple awards including several Emmys, a Tony, a GRAMMY, two Peabody Awards, the Mark Twain Prize for American Humor and was the recipient of the prestigious Kennedy Center Honors in 2014. Prior Spirit of Independence recipients include George Clooney, Don Cheadle, David O. Russell, Tom Bernard and Michael Barker and Charlize Theron.
On May 6 Film Independent will host LA Nights, a pre-Festival art show and auction to benefit the Los Angeles Film Festival and The Underground Museum. This year's poster was designed by artist Noah Davis, whose original work "LA Nights" will be auctioned at the private event alongside over 40 artworks donated by world renown artists including Shepard Fairey, Ed Ruscha, Ry Rocklen, Henry Taylor and Breanna Youngblood to name a few. Funds raised in this auction will support the Los Angeles Film Festival's mission to empower a community of artists who embody diversity, innovation and uniqueness of vision and the Underground Museum, a new public entity for exhibitions and mindful programming in the community of central Los Angeles; run by Noah and Karon Davis. The show will be open to the public May 7-21.
Now in its 21st year, the Los Angeles Film Festival offers unparalleled access to creative voices through energetic film programming, master classes, live performances and conversations with the most compelling artists working today. The 2015 Los Angeles Film Festival will screen a diverse slate of feature films, shorts, web series and music videos, along with signature programs such as the Filmmaker Retreat, Music in Film Nights at The GRAMMY Museum® and Master Classes.
Film Independent Members enjoy pre-sale benefits beginning April 14. Passes will be available to the general public on Tuesday, April 21. The full line-up will be announced on Tuesday, May 5. In addition to access to screenings and events (even after they sell out), Festival passes provide access to a series of networking receptions and entry to the Festival Lounge, where Festival passholders can interact with Festival filmmakers and professionals in the film community. General admission tickets to individual films go on sale to Film Independent Members beginning Thursday, May 14 and to the general public beginning Tuesday, May 19. Contact the Ticket Office for passes, tickets and event information by calling 866.FILM.FEST (866.345.6337) or visit lafilmfest.com.
The Los Angeles Film Festival team is comprised of Festival Director Stephanie Allain, Film Independent Curator Elvis Mitchell, Associate Director of Programming Roya Rastegar, Senior Programmer Jennifer Cochis, Programmers Jenn Wilson and Drea Clark, Head Shorts Programmer Landon Zakheim, Festival Consultant Maggie Mackay and Manager of Industry Relations Mel Jones.