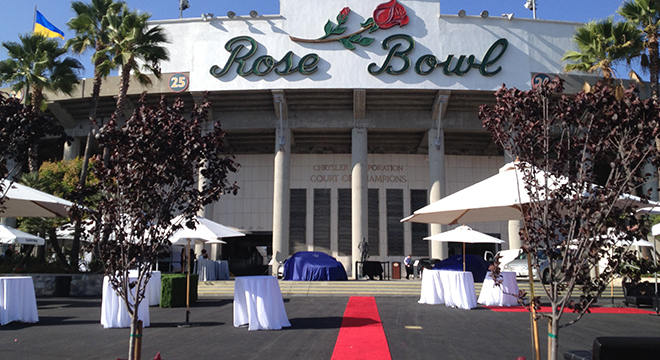 Photos: http://www.rosebowlstadium.com
Coachella, Sunset Strip Music Festival, FYF Fest… the number of music festivals in Southern California seem endless. And there is another one on its way… this time at the Rose Bowl.
According to the venue's officials, they have entered into an agreement with Anschutz Entertainment (the same operators for Coachella) to create an annual two to three-day music and arts festival on the same weekend every June.
When will the festival go down? They are shooting for 2016. 
Rose Bowl CEO and General Manager Darryl Dunn claims that this will not be another Coachella, but instead, a multi-stage festival that incorporates music, arts, food, etc.
Dunn said, "Coachella is an unbelievably successful event, I know talking to the folks at AEG they are very proud of that event and they want that event to happen in Coachella. They are not looking to have another event like that here."
But how different could it be? Time will tell. The agreement between Anschutz and the Rose Bowl would last 10 years with two five-year renewals for a 20-year contract. The agreement is expected to bring in about $2 million in the first year and about $30 million over 10 years, according to reports.