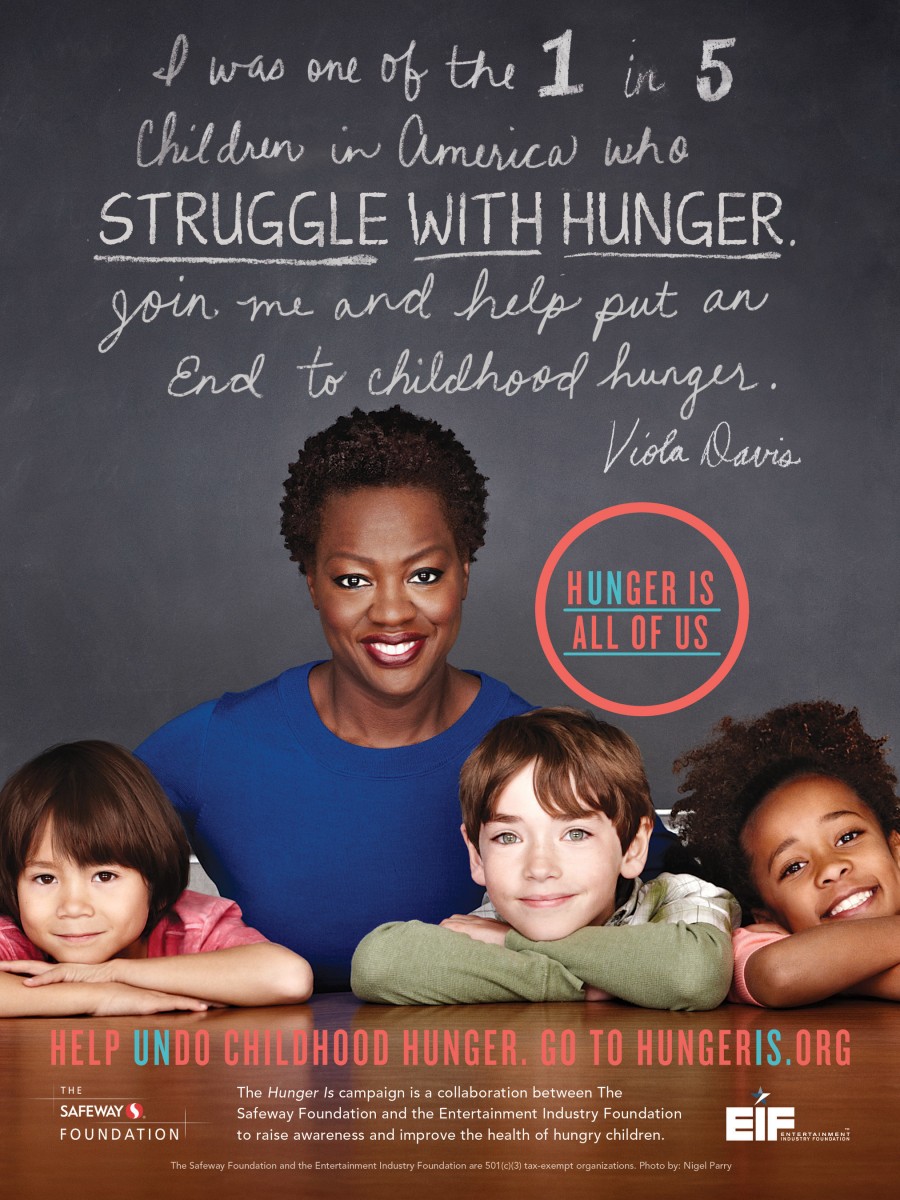 Academy Award®-nominated actress Viola Davis has announced, alongside The Safeway Foundation and the Entertainment Industry Foundation (EIF), that she will continue her role as Ambassador for a second year with Hunger Is, a joint charitable program designed to raise awareness and funds to fight childhood hunger in the America. The year-round PSA campaign will be featured in select Safeway Albertsons stores during the month of April.
Safeway and Albertsons shoppers will have the opportunity to fight childhood hunger by giving during an in-store childhood hunger awareness fundraiser during the month of April at more than 1,700 Safeway Albertsons family stores across the America.
After extraordinary success in 2014, during which the program raised over $4.6 million, the year-round campaign will work to encourage individuals and communities to come together in an effort to improve access to healthy foods and develop a lasting solution to childhood hunger.
"I am honored to join the Safeway Foundation and the Entertainment Industry Foundation for a second year as we continue our mission to eradicate childhood hunger in America," said Davis. "After an incredibly successful inaugural year with Hunger Is, I am grateful to keep the momentum in finding a solution to a problem that is too often forgotten. We have the opportunity to change so many young lives for the better and I look forward to the day when this is no longer an issue in our country."
Funds raised through the initiative will go toward programs focused on eradicating childhood hunger and improving health-related outcomes for hungry children and their families. During the inaugural year, Hunger Is awarded over $1.3 million in grants to 198 local charities to connect hungry children living in neighborhoods to healthy food throughout the country.
"We couldn't be more proud to have Viola join us for a second year in our mission to end childhood hunger," said Christy Duncan-Anderson, Executive Director of The Safeway Foundation. "The generous support from our customers during our first year has been astonishing and demonstrates the power of our communities. Childhood hunger is an issue that touches all of us, no matter where we're from, and we are committed to changing that for good."
Hunger Is grant recipients were selected with the help of the Hunger Is Advisory Committee (HIAC), comprised of leaders from the most respected hunger advocacy organizations in the U.S. including Center for Hunger-Free Communities, Drexel University, Feeding America, Food Research and Action Center (FRAC), New York City Coalition Against Hunger, Share Our Strength's No Kid Hungry campaign, and WhyHunger. The HIAC provides guidance in defining and addressing needs and makes funding recommendations for approval by The Safeway Foundation and EIF Boards of Directors.
"We are so grateful for our continued collaboration with The Safeway Foundation and the incomparable Viola Davis. Her story and her powerful voice have allowed us to make positive change quickly," said Lisa Paulsen, Stand Up To Cancer co-founder and EIF President and CEO. "Together we're making the progress that is essential to solving a problem that deserves this country's attention."
More information about the issue is available at HungerIs.org, along with simple ways for individuals to get involved and donate.