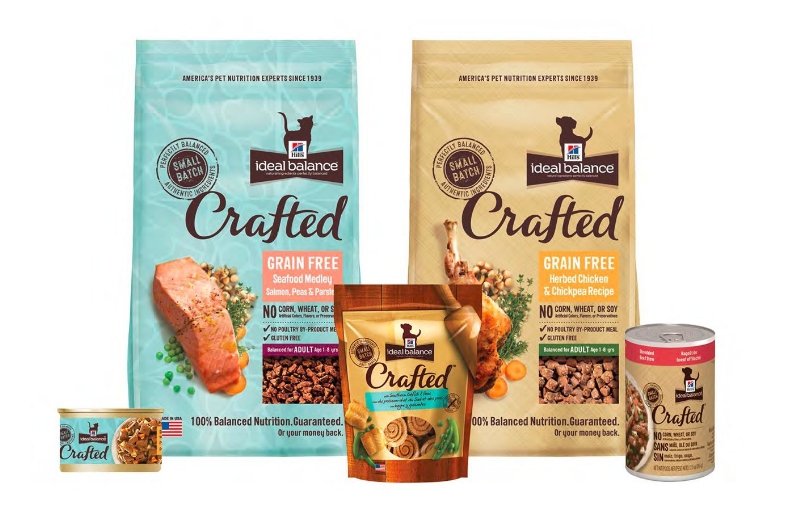 Hill's Pet Nutrition announced the launch of a new and innovative product line under its natural Ideal Balance™ brand. The new Ideal Balance™ Crafted®dog and cat food products will be produced in carefully-managed small batches and include flavorful, nutritious ingredients that appeal to natural pet food consumers.
In its development of Ideal Balance™ Crafted®, Hill's took note of the expanding trend in human food toward less processed, small batch production, exemplified by the growing popularity of craft beers and artisanal cookies, coffees and chocolates.
"Our consumers deeply love their pets and want to know that their food is being prepared with uncompromising care and attention," said Gavin du Toit, Marketing Director, Hill's U.S. "In developing the Crafted line, Hill's embraced this trend to ensure maximum quality and consistency."
Other exciting innovations include the addition of nutritious, flavorful ingredients, such as the ancient grain quinoa, and novel proteins like trout and tuna.
Ed Oblon, VP, Global Pet Nutrition Supply Chain, said Ideal Balance™ Crafted® dry dog food will also be "oven roasted to lock in flavor and nutrition – a still uncommon, but effective way of making dry kibble." 
According to Oblon, the new Ideal Balance™ Crafted® cat products will be slow cooked into new custom shapes to maximize appeal for finicky feline palates. This innovation is the result of many years of Hill's research with pets to understand the important impact of texture and shape in improving palatability for cats.
Since launching its Ideal Balance™ brand in 2013, Hill's has sought to respond to increasingly diverse consumer preferences, while staying true to its core objective of producing products that offer perfectly balanced nutrient profiles specifically designed by pet nutritionists to meet the needs of dogs and cats based on their life stage, size and life style.
"Listening to our consumers, we developed a wide array of innovative choices under our Ideal Balance™ brand to address the desires of today's pet parents," said du Toit. "Each of those choices and all of our pet food products deliver balanced nutrition and support Hill's mission to enrich and lengthen the special relationship between people and their pets."
All Ideal Balance™ Crafted® pet foods are made in the U.S. from natural ingredients, have added vitamins, minerals and amino acids, and contain no corn, wheat or soy.
The new Ideal Balance™ Crafted® products are arriving in March and April at PetSmart® and Petco® and other leading pet specialty stores.