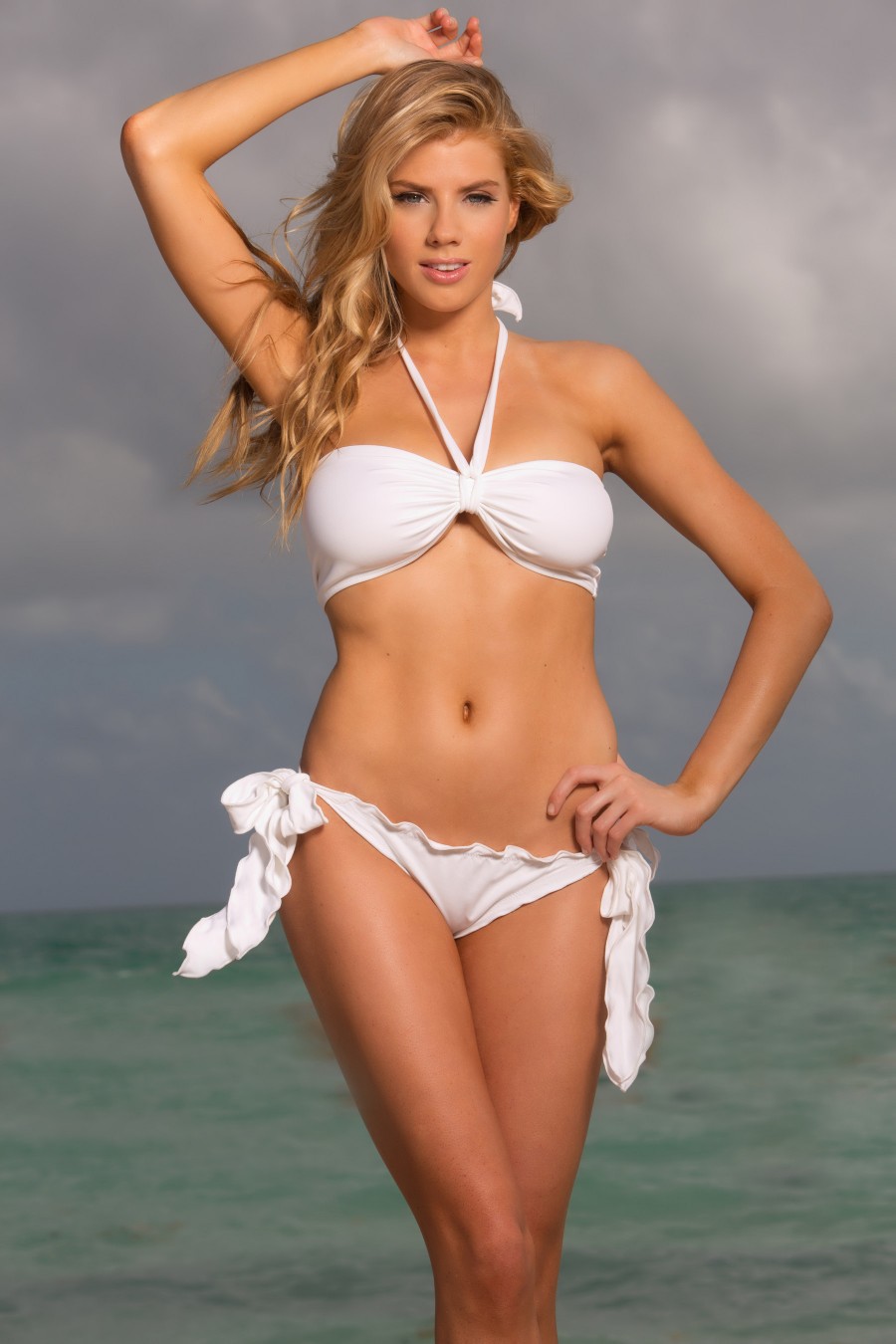 New "Dancing With The Stars" season 20 cast member, supermodel Charlotte McKinney, known for the Carl's Jr. SuperBowl ad. Dubbed "The Next Kate Upton," McKinney shows off her natural assets as the face and body of SUMMERLOVE SWIMWEAR.
"Gorgeous Charlotte McKinney, with her glowing personality and natural beauty, was an obvious choice to model our chic, eco-lifestyle line," says Designer and Founder Vanessa Rivers.
A sustainable and eco-friendly business based in Santa Barbara, California, SUMMERLOVE SWIMWEAR features fresh mix and match separates that make going green sexy and effortless. All swimwear is made in the USA out of a new luxe Italian, sustainable techno-fabric. Each piece is made of 100% regenerated polyamide fiber that is sourced from pre-consumer, and post-consumer materials such as fishing nets, carpet fluff, and other waste diverted from landfills.
SUMMERLOVE SWIMWEAR fabric is not only eco-friendly, but also high-performance, offering a wide range of benefits set to revolutionize the swimwear industry: excellent UV protection, superior chlorine resistance, superior resistance to suntan creams and oils, excellent shape retention, ultra durable, and exceptionally soft.
Gone are the days of eco swimwear being "granola," "hippie" or "boring." SUMMERLOVE SWIMWEAR launched its debut Eco Collection in Spring 2014, inspired by a love of travel and a surfer chic lifestyle. The look is California beach babe meets jet-setting siren. 
"I saw a lack of alluring, eco-friendly swimwear and realized there was an important need that had not yet been fulfilled," explains Rivers. "We have a responsibility to protect the earth for future generations. So I have aspired to create a new sustainable brand that is fun, flirty and affordable, allowing women to easily make the choice to buy green and look gorgeous."
Vanessa Rivers is the daughter of singer Johnny Rivers ("Secret Agent Man"), stepdaughter of producer Todd Fisher and daytime soap star Catherine Hickland, niece of actress Carrie Fisher and granddaughter of Hollywood icon Debbie Reynolds. A surfing expert, Rivers is also a surf and snowboard instructor and writer for travel site GlitterandMud.com.