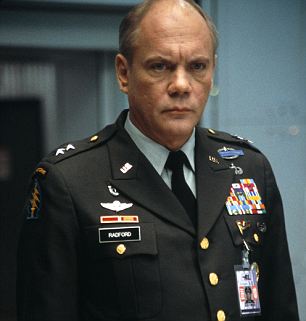 "Seinfeld" fans know him best for portraying George Costanza's boss, Mr. Kruger. Actor, Daniel von Bargen has passed away at the age of 64. According to reports, he experienced complications from diabetes. 
In the early 2000's, von Bargen co-starred as Commandant Edwin Spangler on the TV comedy, "Malcom in the Middle." 
Throughout his career, the comic actor appeared in films, from London Betty to RoboCop 3, Basic Instinct, Broken Arrow, Universal Soldier: The Return, Truman, The Majestic, Philadelphia, A Civil Action, Thinner, O Brother, Where Art Thou?, Snow Falling on Cedars, Disney's The Kid and Super Troopers.
CNN reported that von Bargen's longtime friend and actor Bob Colonna said, "I feel a huge wave of sorrow and relief at the passing of this remarkable man – I treasure the years when I worked with him at Trinity Rep and in a couple of TV films. I admire his excellent body of work in the movies. And I mourn for the darkness and pain that were his final years. God bless him. He was a hell of a guy."