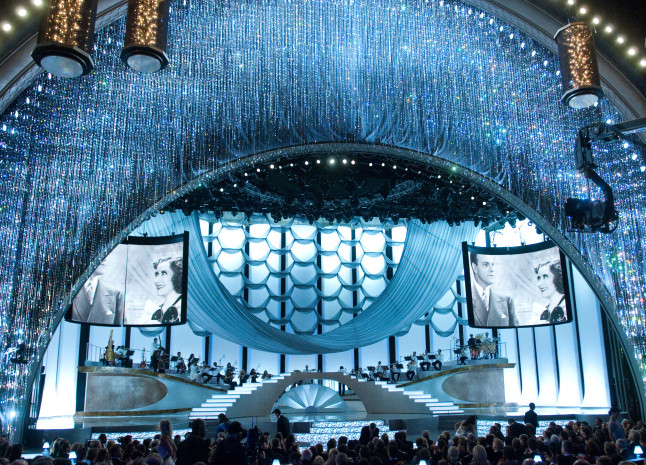 Tony Award®-winning production designer, Derek McLane, will partner with Swarovski for a third year in succession to crystallize the Dolby Digital Theater. The full design concept and visuals of the set will remain a closely guarded secret until the live telecast on Sunday, February 22nd, when the Oscars will be broadcast across the globe on ABC at 7 PM EST.
With Swarovski's long-standing history in film, it felt natural to bring crystal to the Oscars' stage. 2007 marked the first year Swarovski sponsored the set design with a 34 foot, one-ton custom crystal curtain for the Dream Girls performance. This year, Derek McLane will incorporate more than 95,000 crystals into a design that will leave a dazzling impression both on Hollywood's brightest stars and viewers at home.
McLane's set will include one crystal decor piece weighing more than 7,700lbs crafted by nine artisans who spent more than 580 hours assembling crystal as well as additional decor pieces containing over 73,000 crystals from Swarovski that will dazzle on stage and in the theatre.
Last year McLane collaborated with Swarovski on six 'swag drapes' which used more than 64,000 Swarovski crystals. The shimmering drapes appeared behind singer and actress Idina Menzel during her live performance of the Oscar® winning song Let It Go.
Swarovski has been astonishing movie-goers with enchanting crystallized costume and set designs since the 1930s. Swarovski made its Hollywood debut in the 1932 film Blonde Venus, starring Marlene Dietrich who shimmered in statement jewelry pieces and embellished dresses. Since then, Swarovski has added the sparkle to costumes worn by award winning actresses such as Judy Garland in the Wizard of Oz, Marilyn Monroe in Gentleman Prefer Blondes, Audrey Hepburn in Breakfast at Tiffany's and more recently, Jennifer Hudson in Dream Girls and Nicole Kidman in Moulin Rouge and Lily James in Cinderella. Custom shimmering costumes, decor and chandeliers have also made appearances in Black Swan, Skyfall and The Great Gatsby.