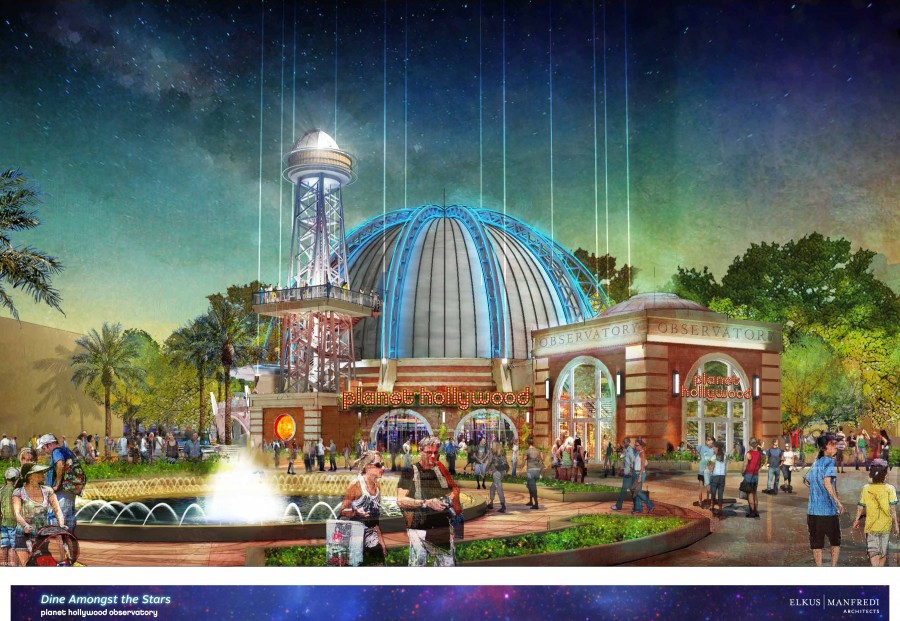 Planet Hollywood will look toward a new set of stars by transforming its Orlando flagship location into a four-story stargazing observatory set to debut in spring 2016. Regularly at the forefront of industry trends, the reimagined Planet Hollywood Observatory is centrally located and will overlook the heart of Downtown Disney with a newly-expanded outdoor terrace and bar. Within the sophisticated entertainment emporium, patrons of all ages are invited to "Dine Amongst the Stars" through a refreshed yet timeless menu, distinctive outdoor bar and lounge options, an imaginative new merchandise line, and a host of all-star celebrity partnerships.
Intensive renovations and artistic treatments, spearheaded by design firm Elkus Manfredi Architects, will take place early next year and will align Planet Hollywood Observatory with the transformation of Downtown Disney into Disney Springs. Disney Springs will be a one-of-a-kind Disney experience, treating guests by day and night to exceptional dining, shopping and entertainment amid beautiful open-air promenades, flowing springs and waterfront charm.
The Observatory's exterior will share the Disney Springs turn-of-the-century design aesthetic, while the interior's refurbished upholstery, spherical planet-shaped lighting fixtures and stylish finishing will create a welcoming atmosphere for fans to celebrate a new generation of superstar entertainers. New dining and lounge options will include a new outdoor terrace and outdoor bar space called Stargazers, which will feature live entertainment while music in the main dining room will be energized by DJ performances.  Walls and glass displays throughout the massive space will be adorned with imagery and memorabilia from various movies paying homage to a long tradition of filmmaking and recognizing beloved newcomers.
"We're thrilled to be a part of Disney Springs and transform our brand as Disney evolves its exciting new venue," said Planet Hollywood International Founder and Chairman Robert Earl. "With Planet Hollywood Observatory, we are refreshing our dining experience as we renew our commitment to the new, rising stars of the entertainment industry — a part of our core mission since inception."
Refreshed dining options will highlight Planet Hollywood's timeless classics and introduce a host of updated additions. A curated beverage program will feature a variety of milkshakes, smoothies, wines, bottled and draft beers, as well as cocktails served in specialty glassware to cater to the needs of all guests, from groups with small children to young adults and seniors. Spacious dining rooms ensure comfort for family meals while various bar spaces set the mood for a perfect date.