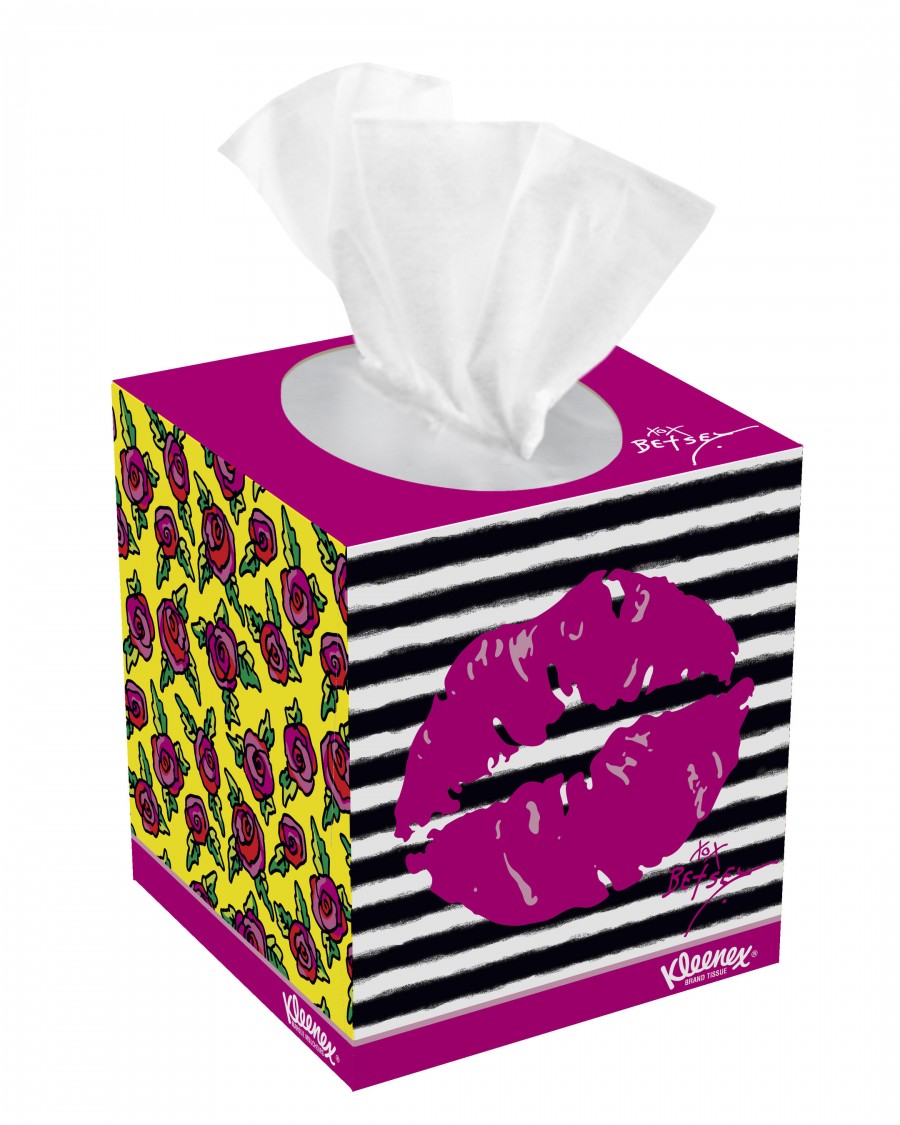 Kleenex is redefining the facial tissue category with the introduction of a new line of attention-grabbing package designs created in partnership with renowned fashion designer Betsey Johnson. The "Ready to Care" Collection, which includes a mix of bold, eye-catching designs, transforms a multi-functional product into a must-have statement piece that excites the creative side in all of us, inspiring new uses for the product and packaging.
"I am so excited to announce my product collaboration with Kleenex brand – our designs are bright, bold, pretty and punk! The product assortment is perfect for all of my Betsey babes," said Betsey Johnson. "I've always loved the product, but this line is about more than just the tissues – the boxes are perfect to hold makeup brushes and the wallet packs can hold all of your cards! I can't wait for everyone to get their hands on this rockin' line," said Johnson.
Kleenex brand worked closely with Johnson to marry her vibrant designs with the soft and practical tissue to deliver a unique product meant to inspire personal expression – from customizing boxes with your own chic touch, to giving you new ways to share Kleenex brand products in your life, whether it's at home or on the go.
"It's evident that Betsey Johnson really cares about creating a product that makes people feel good about themselves and helps them make a statement, which aligns with the priorities that we have as a brand," said Eric Higgs, Brand Director, Kleenex. "Our collaboration with her has given us an opportunity to offer designs unlike anything we've offered before, in an effort to inspire people to start thinking differently about facial tissue and using it in ways that they never thought of before."
The new line includes the following package designs:
Zip It: "Rock on" with this bold design featuring Betsey's most wild prints.
Kiss Me: This design is sprinkled with vintage floral and sealed with a kiss from Betsey.
I Heart Betsey: If you're mad for mod, channel your inner flower child with this design.
Seeing Spots: This print brings an animal magnetism to your décor. It's a classic Betsey print that appeals to the rocker and the feminine customer.
The brand will reveal the new designs today at an exclusive media event with Betsey Johnson in New York City. The event will feature various presentations of the product – from traditional uses, like blotting makeup, to untraditional uses, including using a box as a mail organizer. Get and share creative ideas for alternative uses of your empty boxes using #KleenexBetseyStyle, and visit the Kleenex Brand Facebook page for additional inspiration. To find Betsey Johnson designs at the nearest participating retailers, visit kleenex.com/expressions.